In this article, Honeywell discusses its new HG2800 Inertial Measurement Units (IMUs), setting a high standard for accuracy and stability in aerospace navigation, merging its technology with Civitanavi's Fiber Optic Gyroscopes (FOGs) to create a solution that meets both military and commercial needs.
---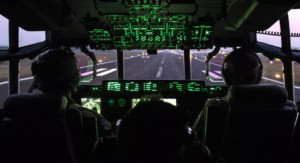 Whether they are helping a pilot navigate by the stars, steadying an imaging system on an unmanned aerial vehicle or stabilizing a radar antenna, HG2800 fiber optic gyro (FOG) inertial measurement units (IMUs) are raising the bar on accuracy, reliability and affordability for a wide range of applications.
"HG2800 IMUs are the first products developed under Honeywell's year-old agreement with Civitanavi Systems," said Brittan Brandt, Honeywell Director of Offering Management for inertial systems. "We're very excited about these new offerings, which will give customers the performance they need to meet their most challenging precision pointing, stabilization and navigation needs."
"This is our first IMU in this class to use a closed-loop FOG design to provide greater dynamic range and scale-factor linearity for more precise measurement," she continued. "We have achieved a quantum leap in performance by using Civitanavi FOGs with the Honeywell silicon micro-electromechanical systems (MEMS) accelerometers, which deliver near navigation-level capabilities previously available only with quartz-based accelerometers."
"The ready-now HG2800 IMUs are an affordable alternative for applications requiring this high level of performance and reliability," she added.
International and EU-Specific Versions Meet Customer Needs
In fact, the new HG2802 IMU uses an accelerometer that is three times faster with twice the dynamic range of alternatives in its performance class. The HG2802 is the international version of the groundbreaking IMU, which is available now for customers without any ITAR restrictions. The HG2801 is the European Union indigenously manufactured version of the product.
Both are ideal for commercial, industrial and military users needing high performance and lower cost in an IMU that is also smaller (3.5×3.29 inches), lighter (1.65 pounds) and less power-hungry than competing FOG based options.
"The HG2800 IMUs were developed with customer requirements in mind, including the need for high bandwidth, low data latency and low noise," Brandt said. "In fact, since there are no moving parts, these IMUs are acoustically silent which makes them perfect for applications where sound or vibrations could interfere with operations or lead to detection under water."
HG2800 Points the Way for Celestial Aided Alternative Navigation
The HG2800 IMU is ready to help Honeywell put a new twist on the age-old science of celestial navigation, according to Ben Mohr, Honeywell Offering Director for alternative navigation products.
"Mariners have been navigating by the stars for thousands of years and Honeywell has been working on celestial navigation for almost a decade," he said. "Our goal is to provide pilots with highly accurate position data when GPS signals are either jammed or unavailable. Instead of a sextant we use an infrared-band telescope to take sightings of stars and resident space objects, like satellites and space debris."
The celestial navigation team sees the H2800 as a true game-changer for their groundbreaking technology, Mohr said; "Finding and fixing on the right object in space takes an extraordinary level of precision. Being off by just a few arcseconds can affect the algorithms used to calculate the aircraft's position. The new FOG-based IMU is extremely reliable and doesn't cause noise jitter, which can affect accuracy. With this IMU our celestial navigation system is able to achieve 25-meter accuracy."
Development continues on the Honeywell celestial aided alternative navigation system and flight tests using the HG2800 IMU are scheduled to begin in 2024. In addition, Honeywell continues to work with other potential customers on a broad range of potential applications for the HG2800.