PteroDynamics is a leading innovator in the design of autonomous VTOL (vertical takeoff and landing) fixed-wing drone systems.
Our highly efficient folding wing unmanned aerial (UAS) platform, based on our patented Transwing® technology, is ideal for mission-critical civilian and government applications. Transwing® aircraft overcome the inherent shortcomings of current VTOL systems by combining the speed, range, and endurance of a fixed-wing airplane with superior VTOL performance in a simple, efficient autonomous UAS platform.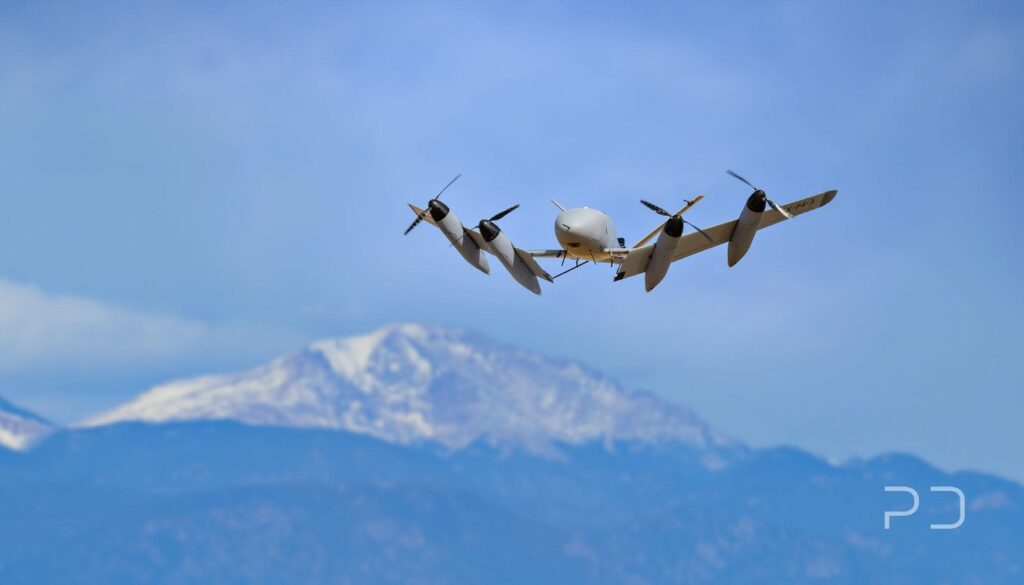 The Transwing® platform automates time-sensitive delivery of high-value, mission-critical cargo to remote, hard to reach locations without runways that otherwise would require manned aircraft or alternative solutions at significant expense. Transwing aircraft are ideally suited for missions for which:
Payload is of high importance or mission critical.
Timeliness is essential.
Locations are remote, difficult to reach, and may not have runways.
Significant resources and costs are required.
Adverse conditions (weather, hostile or disputed environments) are present.
Transwing aircraft are ideal solutions for military and civil maritime logistics, autonomous cargo delivery to remote locations with no runways, linear inspection and ISR, and public safety.
PteroDynamics has delivered its VTOL fixed-wing drone aircraft to the US Navy in support of the Blue Water UAS maritime logistics program and has also partnered with Leidos on DARPA's ANCILLARY project.