SL40 Small Unmanned Surface Vehicle
The SL40 autonomous survey boat is a waterjet-propelled unmanned vessel for hydrographic and bathymetric surveys and inspections. Measuring 1.6 meters long and 0.7 meters wide, the SL40 weighs 35 kg and can carry 15 kg of survey instrumentation.
The innovative waterjet propeller allows the USV to sail at 5m/s and effectively avoid being entangled in water plants or rubbish. The USV comes with obstacle avoidance system and RTK, and can be controlled by either a base station or a remote control.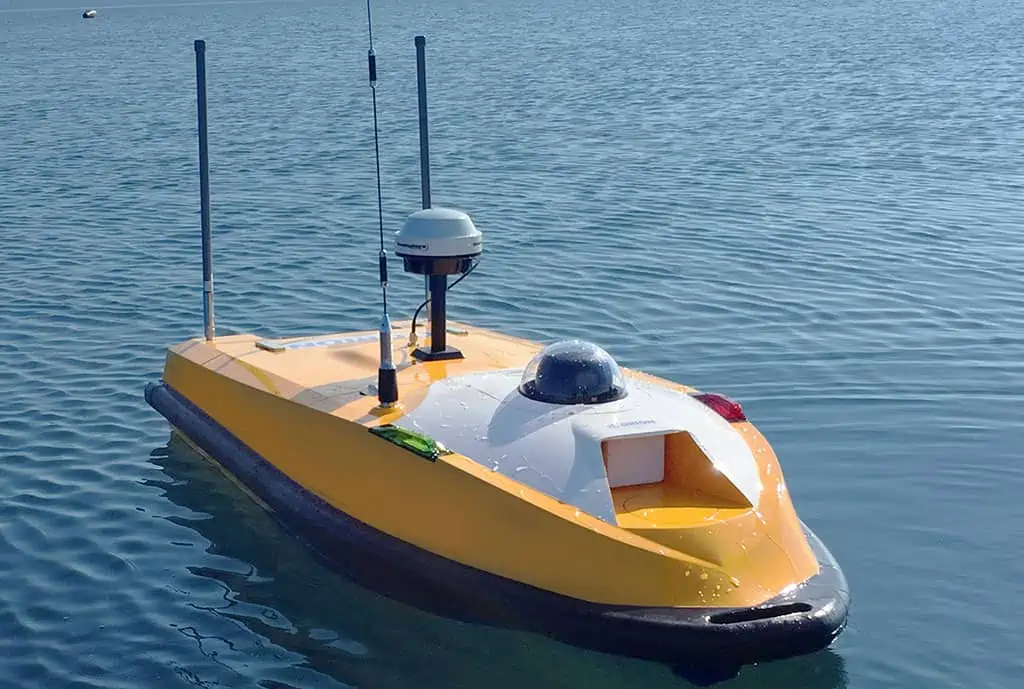 ① Fast Switch Between Missions
Instruments, like ADCPs, echo sounders and side scan sonars, with a diameter of 5 cm to 18 cm, can be installed rapidly into the central moonpool, allowing you to switch between missions with ease.
· ADCP
· Echo Sounder
· Side Scan Sonar
② Multibeam Echo Sounder Solution
In addition to the above instruments, SL40 can also be upgraded to a multi-beam echo sounder solution which has been proven to be highly mature and stable after repeated tests.
The optional MBES model includes R2sonic 2020 and Hydro-Tech YH400P.
③ Automatic mission planning
You can pre-program the survey mission with just a few drags and clicks on the base station computer. SL40 carrying instruments can conduct surveys autonomously and send back real-time data.
You can also drive SL40 by a remote controller to reach some difficult corners.
④ Intelligent collision avoidance
Equipped with radar sensors, SL40 USV can detect obstacles and avoid collision within 50 meters.
In manual mode, you can observe the water environment via real-time video to improve navigation safety.
⑤ Higher speed & tangling free
The innovative water jet thruster brings SL40 USV to a top speed 5m/s and effectively avoid being entangled by water plants or debris.
⑥ Stable sailing
The trimaran hull design dramatically improves stability when sailing at high speed.
Specifications:
| | |
| --- | --- |
| Dimensions | 1.65m x 0.7m x 0.4m |
| Range | 2km |
| Endurance | 8h @ 1.5m/s |
| Payload | 25kg |
| Weight | 42kg |
| Max Speed | 5 m/s |