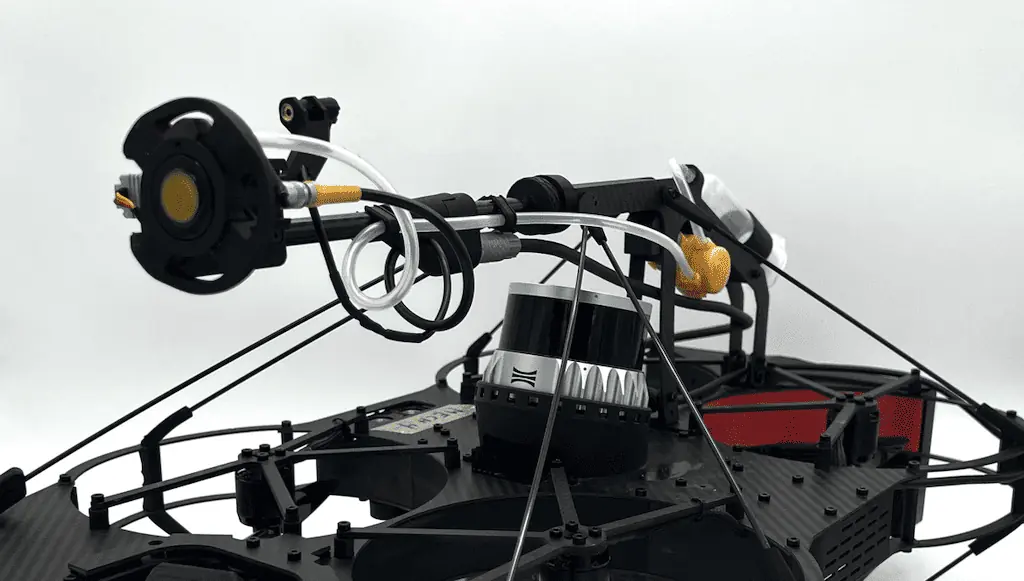 ScoutDI's most anticipated addition to the Scout 137 Drone System enables visual inspection with a high-resolution camera and Ultrasonic Thickness Measurements (UTM).
This can occur during the same inspection session, without payload switching or sacrificing LiDAR data.
Previous models, however, have had limitations with regard to confined-space NDT and contact operations with indoor inspection drones, among others. Some are difficult to fix without a complete drone redesign, while others can be remedied via "optional payloads". 
Scout 137 UTM Module
With the upcoming Scout 137 UTM module, several of the previously mentioned concerns are already solved:
The Scout 137 drone system has been designed for no human entry from the ground up. The onboard 3D LiDAR handles positioning and mapping and provides visual and spatial awareness support to the pilot together with the 4K camera. If inspecting a large cargo tank, you can see where you are and where you're going without leaving the stringer level you'r e on, possibly without entering the tank at all.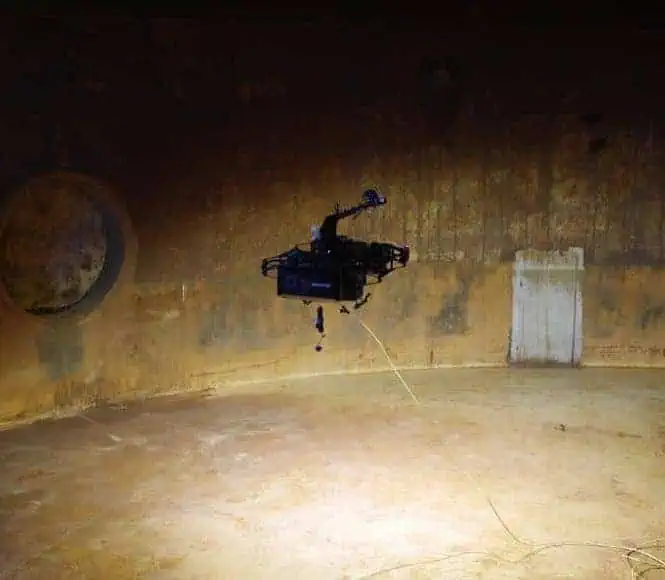 The LiDAR also location-tags all data captured by sensors integrated to the Scout 137 data flow, so far including camera and UTM data. When uploading all session data to the Scout Portal, locations of visual and UTM data are clearly marked and color-coded in the 3D point cloud.
Combining presentation of two datasets like video and UTM this way, gives advantages beyond just looking at both datasets on the same screen:
You can see where the photo, video or UTM was captured, so you know immediately where action is needed
You can relate the UTM to visual data to consider probable causes
Vice versa, visual attributes may give clues of important UTM to prioritize
You can easily make a general assessment of the data sampling coverage, since the distribution of all measurements is shown on the point cloud.
Video adds further context to everything
Of course, all data is securely stored and backed up in the Scout Portal.
The Scout 137 UTM module is an optional payload, well integrated with our existing solution for visual data. It consists of the probe, mount and arm, coupling gel reservoir and pump, all the necessary cables and a small PCB that is mounted inside the drone body.
The Scout137 UTM module is designed to improve situations as described above. On the operations side, when UTM is done following visual inspection, it will in many cases allow the inspection crew to avoid working at heights and may eliminate human entry altogether.
In other cases, the drone solution will be a welcome complement to rope access. Especially suited for repeated measurements across large surfaces, rope access technicians may reduce their work scope significantly by allowing the drone to focus on the areas where it can move freely and quickly.
The intention is to present an efficient and robust add-on to maintain safety, accelerate project completion and improve data coverage.
What You're Not Getting 
Reliable UTM requires good contact with the surface of the plates being inspected. In many cases, this means that the surface must be cleaned of any product residue, corrosion and other artifacts that affect the smoothness and texture of the surface negatively. It also means that debris must be removed from the probe magnets from time to time.
Hence, getting a drone to do the UTM will not necessarily take away the need for cleaning, scraping or grinding that was there in the first place, but it will be an excellent tool for screening of condition and reduce the scope for rope access or scaffold-accessed NDT inspection.
Summary
A UTM option for the Scout 137 Drone System is being developed and subjected to extended industrial testing. It is intended as an efficient add-on to maintain safety, accelerate project completion and improve data coverage of visual and steel plate thickness data of large assets. 
When ready, the UTM option can be ordered with any new drone purchase from ScoutDI. In some cases, it will also be possible to retrofit it to already purchased systems.