Flyby Robotics is a U.S.-based developer of medium-lift UAS (unmanned aerial systems) platforms with accessible on-board ML computing power for commercial, industrial, public safety and defense applications. UST is delighted to welcome Flyby Robotics on board as a supplier partner, and we will be highlighting their unique solutions and capabilities across our channels over the next 12 months.
We've just launched Flyby Robotics' UST supplier profile, which has been written and built by our team in collaboration with the company. The Silver profile showcases the Flyby F-11, a full autonomy-capable quadcopter drone with an NDAA-compliant supply chain.
Read on to find out more: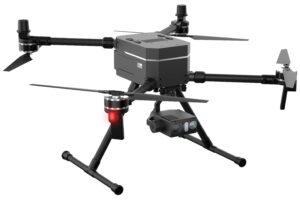 The F-11 has been developed and built by drone pilots as main project contributors on the engineering staff, and has been created from the ground up to be highly intuitive in every operational aspect, simplifying field complexity and providing a seamless user experience. Designed and assembled in the United States, the highly secure platform is ideal for operators looking to reduce dependence on foreign-made hardware.
The versatile UAS is BVLOS (beyond visual line of sight)-ready, featuring a triple-redundant LTE-capable cellular communications module available as well as radio link with a 10 km range. The aircraft delivers mission endurance of up to 50 minutes and includes dual hot-swappable batteries, allowing you to get back into the air almost immediately.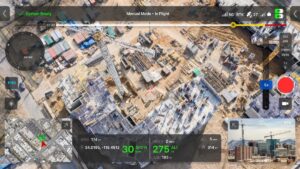 With an open compute architecture and an onboard NVIDIA Jetson Orin NX module boasting more than 50 trillion operations per second, the F-11 is perfect for hosting advanced and custom edge AI and machine learning software. This impressive computing power allows the aircraft to be equipped with state-of-the-art autonomy capabilities, reducing the cognitive load on the pilot and allowing operators to focus on higher-level decision-making and mission strategy. It also enables developers to deploy robust real-time data analysis that enhances a wide range of applications, including critical infrastructure inspection, gas leak detection, tactical reconnaissance and more.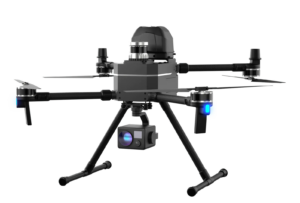 Featuring a 3 kg (6.6 lbs) payload capacity and quick-release modular mounts on both the top and bottom of the aircraft with 12 mounting hardpoints, the versatile F-11 can be customized and equipped for almost any mission imaginable. The UAS is available out of the box with the following payload options:
Gremsy DUO gimbal (Sony Block 4K, FLIR Boson 640, and laser range finder)
Gremsy ZIO gimbal (4K hybrid 30x zoom, 20x optical, 12x digital)
Sony ILX-LR1 light-weight (240 grams) full frame 60 MP camera
Sony A7R IV full frame 60 MP camera
Additional payloads can also be integrated upon request.
The AEGIS model of the Flyby F-11 includes an Ouster OS-1 LiDAR payload for 360-degree obstacle avoidance with an unmatched range of up to 295 ft. Overcoming the range limitations of camera-based obstacle avoidance, this multi-array LiDAR scanner delivers centimeter-level precision distance measurement for the utmost in safety, even in foggy and low-light or night-time conditions.
To find out more about Flyby Robotics and the F-11 drone, please visit their profile page: https://www.unmannedsystemstechnology.com/company/flyby-robotics/