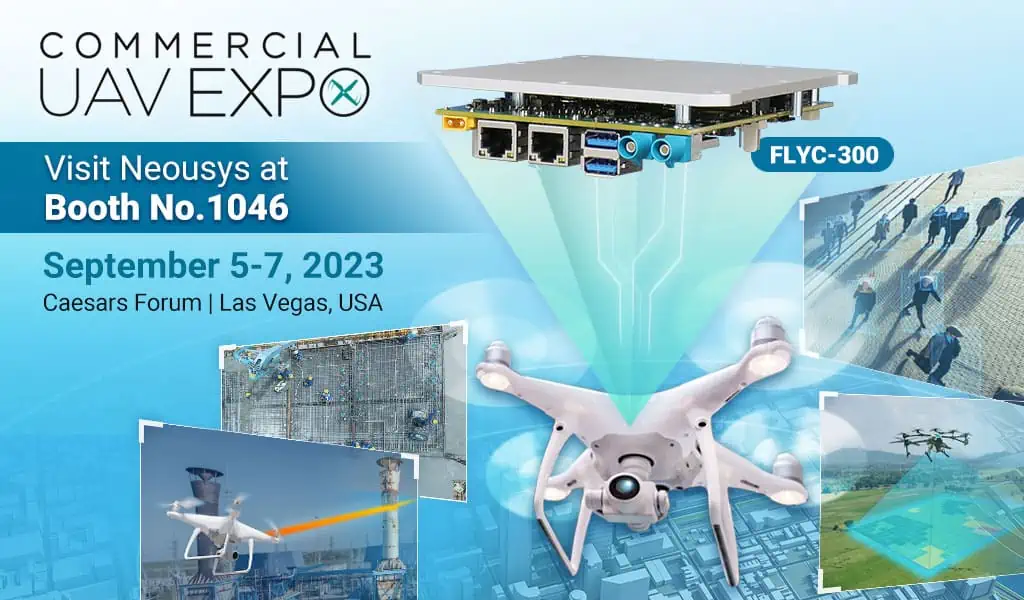 Neousys Technology, an industry-leading provider of rugged embedded systems, will be exhibiting at the Commercial UAV EXPO 2023, booth 1046, 5 to 7 September in Las Vegas.
Neousys will debut the FLYC-300 drone mission computer, powered by NVIDIA® Jetson Orin™ NX system-on-module, offering up to 100 TOPS AI performance power for AI-based applications and autonomy capability, on drone.
Powered by NVIDIA® Jetson Orin™ NX, Neousys FLYC-300 is an ultra-lightweight drone mission computer at 297g. Capable of providing 100 TOPS AI inference power for AI-based applications such as object/ facial recognition and obstacle avoidance, it supports GbE/ GMSL2/ USB3 connectors for versatile sensors and cameras to fulfill data acquisition for various applications.
Built on Neousys' field-proven rugged construction design, FLYC-300 supports 4S-16S battery pack, and UART/ CAN/ I2C to communicate with flight controllers, enabling integrators to easily integrate FLYC-300 into general drones.
Other Neousys rugged compact edge AI computers appearing at the exhibit:
NRU series – Powered by NVIDIA® Jetson AGX Orin™/ NVIDIA® Jetson Orin™ NXNeousys NRU series can act as an AI NVR or camera sensor hub.
The NRU-220S series features up to 275 TOPS AI computation power with M12 connectors, it is ideal for intelligent video analytics on roadside or in vehicles; NRU-51V+/NRU-51V series supports 4x GMSL2 automotive cameras, perfect for ADAS, teleoperation, and autonomous mobile robots.
POC series – A lineup of powerful compact computers ideal for installation into tight and confined spaces
POC-465AWP is IP66 rated waterproof for dusty and high humidity environments; POC-700 is powered by the latest Intel® Alder Lake i3-N305 processor and supports Intel® OpenVINOTM for AI inference capabilities.
Commercial UAV EXPO is a trade show and conference focusing on the integration, application, and operation of commercial unmanned aerial systems (UAS). Featuring UAV solutions for industries including; construction, infrastructure, delivery, mining, agriculture, security, surveying and mapping, and more – find Neousys Technology on Booth 1046.