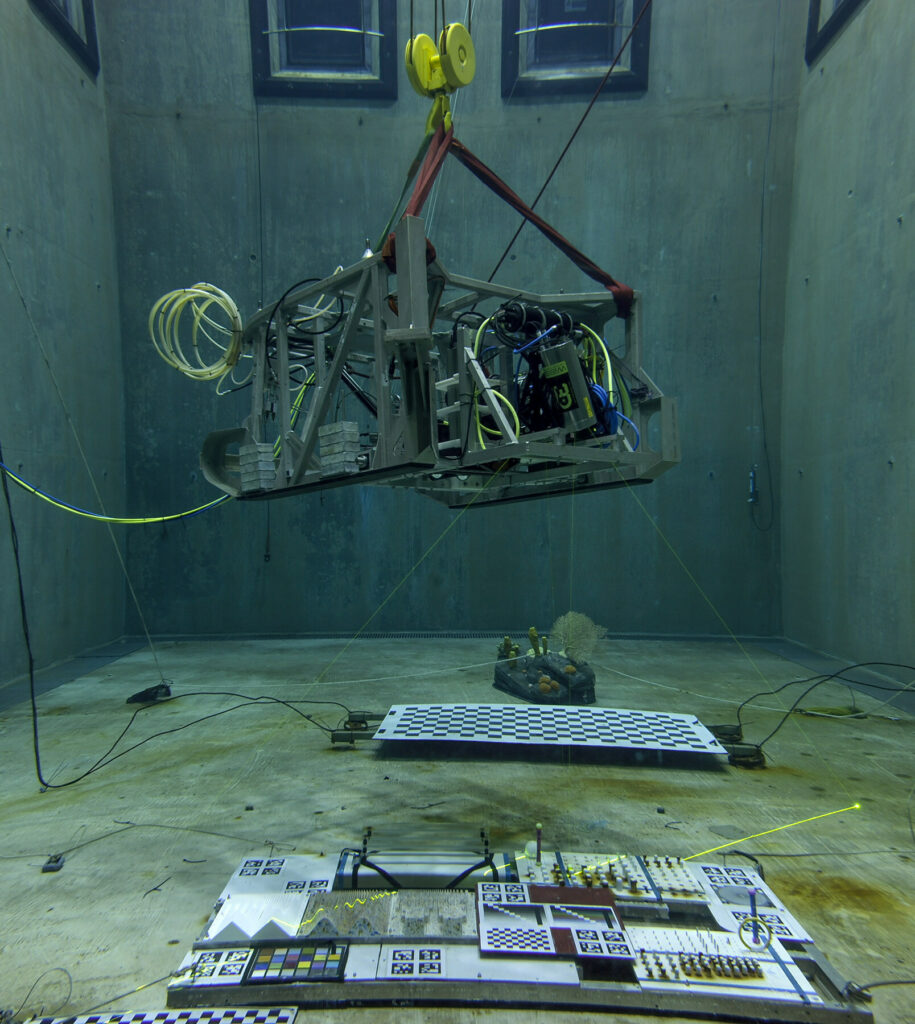 The Monterey Bay Aquarium Research Institute (MBARI), a non-profit oceanographic research center, is working with 3D at Depth, a leader in commercial subsea LiDAR laser technology, to deliver a new design for a next generation Subsea LiDAR customized for marine science applications.
If successful, fabrication of the next generation system will begin later this year.
MBARI began testing 3D at Depth's technology with the first-generation subsea LiDAR system (the SL1) in 2013 and incorporated the sensor into the institute's Low-Altitude Survey System (LASS) that can be attached to MBARI's remotely operated vehicles to map and image the deep ocean floor.
In 2017, 3D at Depth delivered a 4000m depth rated Wide Swath Subsea LiDAR (WiSSL) to meet the custom requirements for MBARI's seabed mapping work. Starting in 2018, MBARI's Seafloor Mapping Lab has used the WiSSL and LASS to map a variety of seafloor features and habitats at centimeter scale, including methane gas seeps, faults, submarine canyons, deep-sea coral and sponge communities, octopus brooding sites, and high-temperature hydrothermal vents.
According to MBARI, its mission is to advance marine science and engineering to understand a changing ocean. Visualizing the structure of the seafloor is critical to understanding the biology and ecology of the ocean. The success of the WiSSL and LASS has allowed MBARI and 3D at Depth to demonstrate the benefits of efficient 1-cm-scale swath mapping in the deep ocean.
Ultimately, MBARI plans to incorporate the low-altitude survey capability on autonomous platforms to achieve efficient centimeter-scale surveys of the deep ocean floor. To this effort, MBARI is collaborating with 3D at Depth to develop the next generation system that provides enhanced capabilities in a smaller package capable of AUV deployments.
Dave Caress, Principal Investigator for MBARI's Seafloor Mapping Lab, said: "Our desire to achieve 1-cm-scale surveys of areas with complex and rugged terrain requires generating precise bathymetry over altitudes from 2-m to 10-m, while our need for efficient use of expensive platforms requires a scan rate and a field of view comparable to other swath mapping sensors. Achieving this performance with a LiDAR that is smaller, lighter, and uses less power will enable us to integrate the system into smaller subsea vehicles, and ultimately to make fundamental new observations in the deep ocean in support of our benthic ecology and marine geology research programs."
Carl Embry, CEO of 3D at Depth, added: "We are excited that a research organization such as MBARI continues to use and invest in our technology to meet one of their strategic goals. These projects are truly a win-win for both organizations as it provides MBARI with a tool to meet their scientific goals and this helps us accelerate the development of our next generation Subsea LiDAR (SL) systems for moving AUVs and ROVs."
Find Bathymetric LiDAR manufacturers and suppliers of marine and subsea LiDAR software and hardware for Drones, USV, UUV and ROV >>