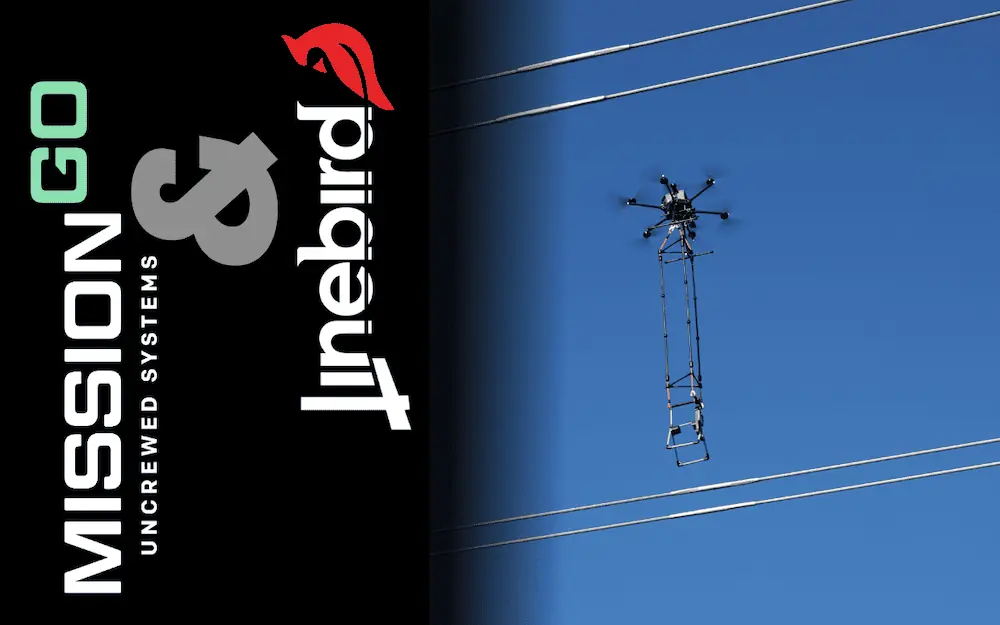 MissionGO is teaming up with Linebird to provide advanced services and training for UAS operations and enhanced special inspections of electrical utility infrastructure. 
MissionGO is a leading drone solutions expert providing infrastructure inspection for utilities. Linebird is a UAV payload equipment manufacturer specializing in combining existing overhead powerline tools with its non-conductive adaptation kits for use with common UAV platforms.
This partnership makes MissionGO one of the first to offer certified Linebird-equipped drone services for the electrical utility industry.
MissionGO customers have the opportunity to also contract for UAS training and overhead line measurement services such as micro-ohm resistance of conductors, connectors, splices, and switching devices. Additionally, MissionGO will now offer other Linebird-equipped services such as wildlife nest removal, overhead tool transport, and line-cutting.
By utilizing these toolsets, MissionGO will now be able to service the transmission and distribution construction industry – exponentially reducing risk and operating costs for customers.
"Becoming a certified Linebird service provider makes perfect sense," said Chris Corgnati, President and CEO of MissionGO. "Our organizations both prioritize quality, efficiency, and safety in the infrastructure industry. We're excited to bring this new and innovative solution to our customers in addition to our current aerial inspection offerings."
"We are thrilled to align strategically with MissionGO as we continue to deploy our non-conductive UAV payload systems into the electrical utility world," said Lee Corbin, VP of Customer Development at Linebird. "We foresee 2023 as the Year of the Utility Drone, as utilities take advantage of new capabilities using UAV equipment to take inspections and maintenance on the grid to a new level. With MissionGO's expertise and reach, equipped with Linebird payload products, UAV teams will perform a variety of direct-contact work on live power lines – effectively and safely from the ground."