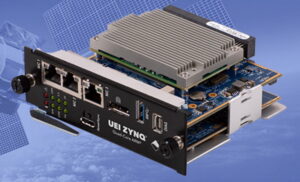 United Electronic Industries (UEI) has launched the Zynq UltraScale+ processor. Designed to be used in conjunction with the company's UEIPAC programmable automation controller systems, the Zynq UltraScale+ combines the power of a high-performance quad-core ARM processor with programmable logic, offering a robust hardware solution to meet a variety for their data acquisition and control needs within unmanned systems and robotics.
The processor enables real-time data processing, analysis, and decision-making, delivering accelerated performance and increased efficiency. Its adaptability empowers engineers and developers to customize and optimize their systems according to specific requirements. Its advanced features, such as high-speed connectivity interfaces, secure boot capabilities for cybersecurity with a TPM (Trusted Platform Module), and support for a wide range of industry-standard protocols, make it an ideal choice for applications in industries such as aerospace, ground robotics, and industrial automation. UEI has also added TSN (Time Sensitive Networking) capabilities to further support their customers.
According to UEI, the introduction of the Zynq UltraScale+ processor showcases the company's dedication to providing customers with the most advanced and versatile hardware options to meet their data acquisition and control needs effectively. All UEI PowerDNA products are backed by a 10-year availability guarantee and a standard 3-year hardware warranty, with the ability to extend up to 10-years to mitigate obsolescence issues.