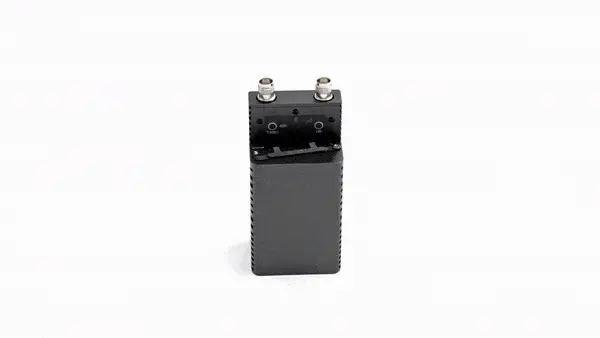 Doodle Labs will soon release a new version of its Wearable Mesh Rider Radio, a handheld mesh radio for connected tactical and industrial teams. 
The new Wearable Mesh Rider Radio will include notable improvements over the company's first generation wearable, including increased ruggedization and more power options in a smaller package.
According to Doodle Labs, a combination of high speed and long-range MANET with a built-in WiFi hotspot will extend the reach of the internet to off-grid, remote areas.
The new Wearable will make use of Doodle Labs' multi-band technology, allowing the use of multiple frequency bands in a single radio. The models first scheduled for release include a 900 + 2.4 GHz version for the industrial sector, an M1-M6 government/defense-sector model and a radio in NATO C-band + government and ISM-specific band version.
The Mesh Rider Radios' roaming feature empowers connected workers to seamlessly stay connected and move about in areas with and without cellular connectivity.
Thanks to its built-in Wi-Fi hotspot, the Wearable allows connected workers to use a standard smartphone and productivity apps for video collaboration with other team members. Fully-integrated enhanced Mission Critical PTT app Zello and Situational Awareness apps like TAK can increase worker safety and productivity.
The new model boasts notable improvements over Doodle Labs' first generation of the Wearable Mesh Rider Radio, based on direct feedback from customers. It is IP67-rated waterproof, includes rugged TNC and USB connectors and is available with an optional Nano liquid coating to avoid salt corrosion.
Weighing in at just 75 grams, which is 50% smaller than its predecessor, the new Wearable is also compatible with multiple power options, including a USB-PD compliant power input and an attachable battery with an expected runtime of 8 to 10 hours.
Key Features
Range: 1.5 km HD video streaming at ground level
Frequencies: Multiple bands on a single radio; options from 900 MHz – 6 GHz
Wi-Fi Hotspot: Connect mobile devices to the Mesh Rider network
Dynamic Mesh: Self-forming and self-healing; peer-to-peer
LTE Extension: Integration with cell phones and LTEO routers
Mission Critical PTT++: Built-in voice, photo, location and text sharing
Power Options: Optional battery pack; can also be powered via USB-C (PD)
Max data throughput: 100 Mbps
Encryption: 256-bit AES; FIPS 140-3 Level 1
TAK: Seamless integration with Civilian and Government Team Awareness Kit frameworks
For product specifications and access to a full datasheet for this upcoming release, click here>