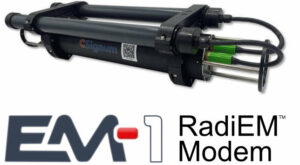 CSignum Ltd. has demonstrated its new RadiEM Modem at Ocean Business 2023 in Southampton, UK.
According to CSignum, RadiEM is the first platform to use low-frequency electromagnetic fields, nature's through-the-surface energy to transmit more data wirelessly from more places than is possible with cable, acoustic, and optical.
RadiEM can transmit data through the water-air boundary, water column, seabed, and subsea structures, as well as connect digital devices in networks below the water with those networks on land and in the air.
Electromagnetic signals are resilient, sustaining their integrity where sound and light scatter: at the surface; in shallow splash zones; aerated, turbid and bio-fouled waters; and, anywhere ambient light, line of sight and noise interference is an issue. Because electromagnetic fields are also silent and invisible, they are more secure as well as safer for the environment and marine life.
"We expect RadiEM to become the cable-free gateway for marine data through the surface of the water," said Chris Brooks, CEO of CSignum. "RadiEM is already successfully deployed in a multitude of use cases from AUV/ASV (HESS and Ocean Aero) and tidal water data recovery to offshore structural and met ocean data transmission to real-time ADCP data. RadiEM has reliably sent data at a range of 28-30m via underwater modems to topside receivers transmitting at 200bps. The battery life is phenomenal, too, enabling up to 3 months on standard external rechargeable batteries before needing a recharge or replacement."
CSignum is focused on helping environmental, aquaculture and industries using subsea structures such as wind farms, fisheries, and a range of coastal resiliency programs modernize their data collection operations. The EM-1 Modem is designed to work seamlessly with the standard interfaces of sondes, sensors, AUVs, ADCPs and dataloggers, and optimizes power consumption and battery life, reducing the need for routine maintenance and improving sustainability.
A recent sonde to shore demonstration in port with a major energy customer to 30 European customers successfully showcased the power of RadiEM for the wind farm and environmental industry reliably sending transmissions from underwater to quayside.
Wind farm equipment suppliers require continuous access to data showing the impact of conditions on the structural integrity of their platforms, as well as determining remaining asset life. Operators do not have easy access to this data today, requiring teams of divers to retrieve data and visually assess structures, causing unnecessary downtime, inefficiencies in performance, and potential health and safety risks. With RadiEM, operators can monitor fatigue, corrosion, strain, pressure, temperature and currents in real time.
CSignum's second generation of the RadiEM Modem, available mid-2024, aims to continue to push the boundaries of underwater electromagnetic transmissions enhancing range and data rate, and expanding data interfaces to support RS-485, SDI12, and others. Additional features will include repeater protocol, advanced networking, single bit signaling, and edge computing.
Find manufacturers and suppliers of underwater communications systems>>