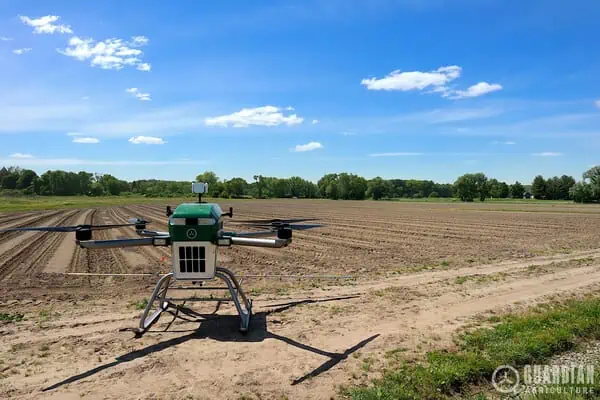 Guardian Agriculture, a leading developer of Electric Vertical Take-Off and Landing (eVTOL) systems for commercial-scale sustainable farming, has received approval from the U.S. Federal Aviation Administration (FAA) to operate its eVTOL aircraft nationwide.
FAA approval makes Guardian Agriculture the first commercially authorized agricultural eVTOL in the U.S., allowing Guardian Agriculture to safely operate its systems across the country. With this approval, Guardian Agriculture expects to be the first eVTOL manufacturer with agricultural drone systems operating at scale within the U.S., and the first to generate thousands of hours of agricultural flight time.
The Guardian SC1 can carry 200-pound payloads and addresses a wide range of application spray volumes and application needs for growers. With four six-foot propellers and a 15-foot width, the SC1 efficiently covers 40 acres per hour of full-field crop protection to the grower.
A viable solution to full-field coverage
Commercial farmers are rapidly moving away from ground spraying equipment in favor of unmanned autonomous systems; however, the majority of agricultural drones on the market are too small to provide growers with full-field coverage at a competitive price point.
Guardian Agriculture offers a viable solution to this with the Guardian SC1, an eVTOL aerial system that delivers the same comprehensive coverage as traditional aerial crop dusting and ground spraying equipment, at the same or lower costs, and with digital precision.
Guardian Agriculture Founder and CEO Adam Bercu commented; "eVTOL powered crop protection is better for crops, better for the environment, and better for growers' bottom line. We designed our system to meet the needs of commercial agriculture. Solving this real-world pain point is the right first step for eVTOL adoption at large. FAA approval represents an important turning point for American leadership in this fast-growing market."
The Guardian SC1
The Guardian SC1 platform is an autonomous, electric, aerial crop protection system designed specifically for large-scale agriculture. Precisely and safely delivering application of crop protection in a fraction of the time and cost, the SC1 uses industry standard nozzles, pressure, droplet sizes, and application volumes.
Combining an autonomous aircraft, a ground station supercharger, and software generating domestically stored data, the Guardian SC1 offers on-target application to fields when and where necessary.
"Aerial crop protection systems have operated the same way for decades," Wilbur-Ellis Vice President of Supplier Relations Willie Negroni said. "With the recent approval from the FAA, Guardian Agriculture is uniquely positioned to change the face of farming for the better. For the first time, we now have a reliable, cost-effective, and sustainable solution in the form of the Guardian SC1. We are so confident in the technology and the Guardian team that we are not only a customer, but also an investor."
Guardian's eVTOL aircraft systems are one of the safest and most cost-effective methods to deliver full-field applications. Guardian designs and manufactures its system entirely within the U.S., and will begin commercial operations in support of its Wilbur-Ellis customer in California in the coming months as it continues to ramp up its production capacity.
"This is just the start. The real-world experience we'll accumulate allows us to demonstrate our system's safety and reliability, which we can leverage across other use cases and products outside of agriculture," Guardian Agriculture COO Jeff Sparks said.
Find suppliers & manufacturers of Agricultural Drones & UAS >>