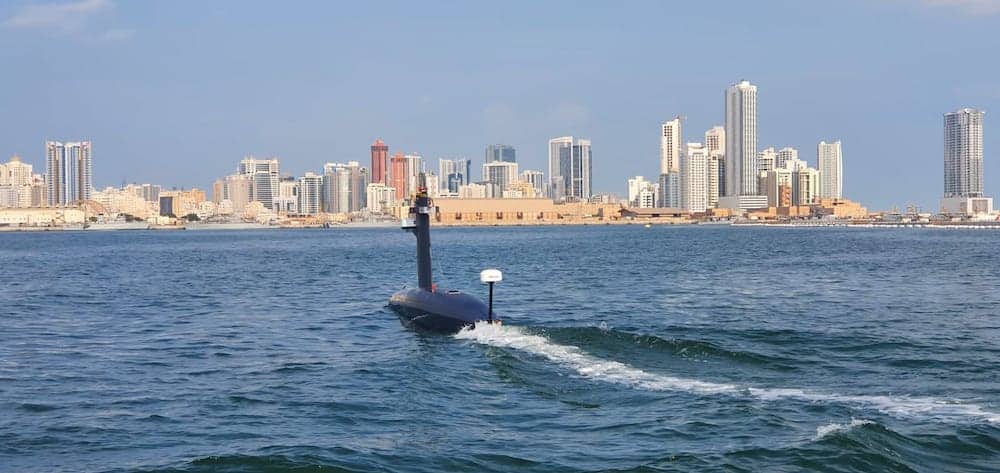 Exail's DriX Unmanned Surface Vehicle (USV) has been selected by the 5th fleet's task force 59 of the US Navy to take part in the two-week 2023 International Maritime Exercise (IMX 23), being held in Bahrain and Jordan, 5-16 March.
This selection of the DriX USV follows the success of the Digital Horizon 22 Unmanned & Artificial Intelligence Exercise organized by the US Navy in Bahrain.
The largest naval exercise in the Middle East, IMX23 is a multinational event involving more than 50 partner-nations and international organizations operating in the Arabian Gulf, Arabian Sea, Gulf of Oman, Red Sea, Indian Ocean and East African coastal regions. The exercise will include 7,000 personnel, 35 ships and more than 30 unmanned and artificial intelligence systems, including the DriX USV.
As part of this exercise, the DriX USV – along with the industrial partners brought together by the unmanned task force TF59 – will operate in Maritime Domain Awareness (MDA) and Mine Countermeasures Missions (MCM) tactical environments. This exercise aims at evaluating the use of combined unmanned technologies for deployment by the inter-allied forces in the Gulf region.
"To be able to take part in such a major naval exercise, along with some of the industry's best, is both a great honor and a recognition of the hard work the Exail teams put in the development of autonomous solutions, from the design of the platforms and their artificial intelligence, to the services we offer around their deployment," said Guillaume Eudeline, Exail's Naval Autonomy Market Director said. "We are now looking forward to the start of IMX23, and are confident that, together with all other partners, we will demonstrate the high potential that deploying unmanned solutions in the naval domain represents."