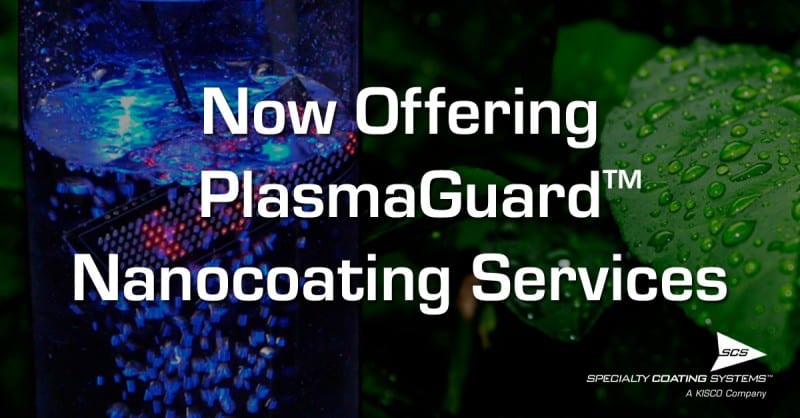 Specialty Coating Systems (SCS) has announced the availability of a new coating line within its service portfolio – PlasmaGuard™ conformal coatings.
Applied through a plasma enhanced chemical vapor deposition process (PECVD), PlasmaGuard nanocoatings are environmentally-friendly, halogen-free and provide excellent splash-proof and waterproof barrier protection to a wide range of electronics components and devices. The ultra-thin conformal nanocoatings join SCS's state-of-the-art polymer-based protection solutions for harsh-environment electronics applications such as drones, UAVs (unmanned aerial vehicles), and UUVs (unmanned underwater vehicles).
SCS is excited to offer PlasmaGuard coating services through a preferred partnership with Europlasma NV, developer of this new halogen-free coating and a global leader in low pressure plasma nanocoating technologies based in Belgium.
Over the past years, Europlasma and SCS have worked closely together to enable PECVD coating capabilities within SCS sites. They are now pleased to offer the availability of commercial plasma polymerized coating services to customers along with Parylene, liquid, ALD and multilayer coating options.
SCS CEO Tim Bender shared, "For over 5 decades, SCS has been dedicated to providing customers with industry-leading coating services and technologies. In light of that mission, we continue to evaluate opportunities that bring new materials and services to help our current and future customers innovate and be successful. Through this new relationship with Europlasma, we are pairing industry-leading plasma-enhanced conformal coating technology and expertise with SCS' industry-leading coating service and applications experience, providing customers additional coating options to meet the unique needs of their products."
When asked about the new relationship between the coating companies, Europlasma CEO Tim Beulens said, "Europlasma has been developing and fine tuning plasma surface treatment and coating solutions and the systems to apply these solutions for over 30 years. We are excited to have found in SCS a global partner that will provide contract coating services for Europlasma PlasmaGuard coatings to allow customers to achieve the highest performance and protection for their products, with the lowest environmental footprint."
Depending on the variant used, PlasmaGuard coatings provide splash-proof or waterproof moisture protection to devices such as wearables and consumer electronics. The ultra-thin conformal nanocoatings are halogen-free, making them an ideal coating solution for the protection of sustainable electronics.