Cambridge Sensoriis, a leading developer of low-SWaP (Size, Weight, and Power) micro-radar sensors for robust high-resolution measurement, has partnered with Unmanned Systems Technology ("UST") to demonstrate their expertise in this field. The 'Silver' profile highlights how the company's radar solutions can be used for a variety of UAS (unmanned aerial systems) and autonomous vehicles applications, including automated landing, airspace management, and last-mile delivery.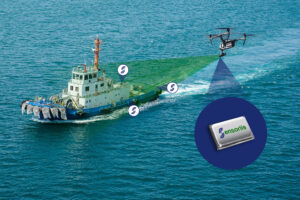 The ARC-Landing radar system is a vital part of supporting the autonomous landing of UAS onto a vessel. The UAS will have completed a mission, such as ship-to-shore (or port-to-ship) drop, last mile resupply in a military mission, or an offshore windfarm inspection, and then need to land on the moving vessel, possibly in a GNSS denied environment.
An ARC primary radar, installed onto the UAS, will actively cooperate with ARC secondaries on the moving vessel, enabling relative positioning during the critical approach and landing phases of drone flight, through the ARC-Landing system.
ARC-Landing can also be used in conjunction with the RadarAware micro radar, which enables a drone to detect objects in the flight path, supporting the safe operation of drones in and around turbines, high-value assets, or infrastructure as they are surveyed.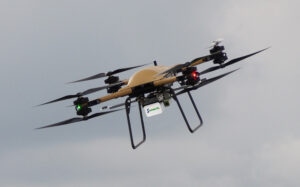 The RadarAware micro radar enables a drone to detect objects in the flight path, whether in the air or ground based. This enables resilient drone operation over long distances, even in changeable weather conditions. The robust, all weather onboard air-to-air radar prevents accidents through collision with cables, infrastructure, trees, non-cooperating drones, birds, and light aircraft.
Automated drones flown beyond visual line of sight can gather detailed close-quarter data from power lines or railway catenary lines, assessing for corrosion and other problems in relation to signalling infrastructure, alignment of tracks and switching points. When installed on the ground, the system also allows surveillance and monitoring of the surrounding sky from the landing area of a vertiport or other base of operations.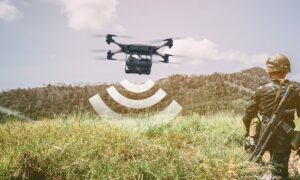 The ARC-Find radar enables a last mile resupply drone, or ground vehicle, to locate the endpoint of a mission within centimetres without the need for satellite positioning or inter-communication between drone and endpoint. ARC-Find also supports the return of the drone to the resupply point or hub. In the case of naval resupply, ARC-Find can locate and enable the return of the drone to the ship, which may have moved during the drone mission, again without satellite positioning.
The ARC-Find micro radar is low power, lightweight, and resilient to counter measures that defeat satellite positioning systems. The system supports 'Default Silent' technology. The ARC radar on the ground remains silent, non-transmitting, until interrogated by a compatible radar in a recognised encoded band. This is particularly important in military deployments where electronic radio stealth is required.
To find out more about Cambridge Sensoriis and their drone micro-radar solutions, please visit their profile page: https://www.unmannedsystemstechnology.com/company/cambridge-sensoriis/