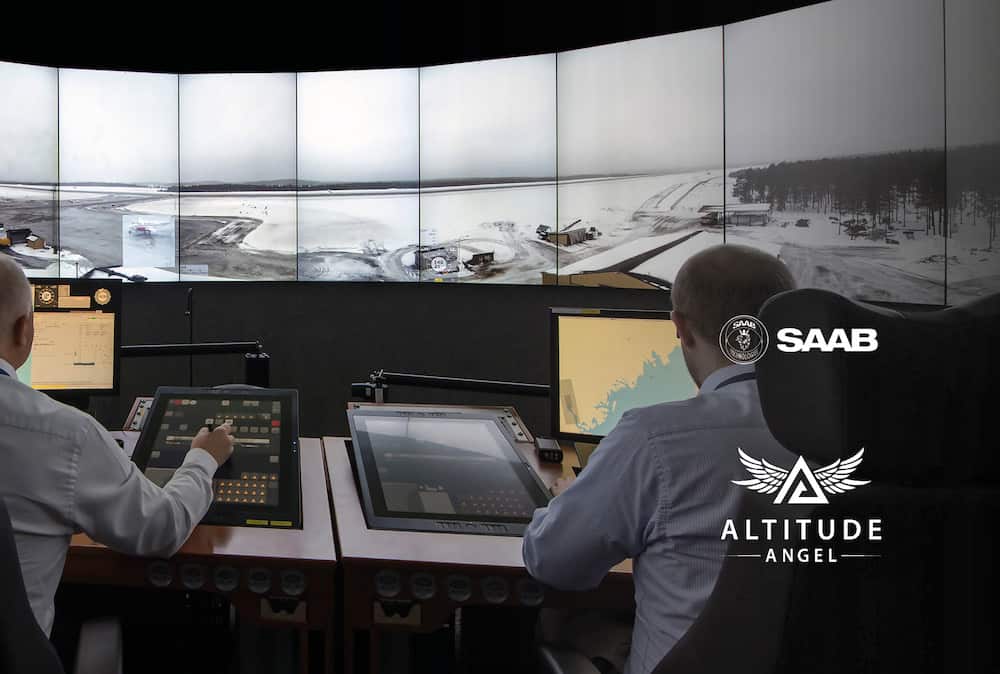 Altitude Angel and Saab have formed a partnership which will see Altitude Angel's Unmanned Traffic Management (UTM) technology platform integrated as part of Saab's Digital Tower (r-TWR) offering.
According to the company, the Saab r-TWR is a next-generation Digital Tower solution which builds on proven Saab video processing, visual presentation, and automation solutions. Saab's r-TWR is a flexible and scalable solution for a broad range of use cases and is already deployed for civil and military airports in Sweden, UK, US, and Germany and with implementations on going in Belgium, Netherlands, Ireland, and Romania.
With the formal partnership agreement in place, Altitude Angel will begin integrating its GuardianUTM services into the r-TWR digital tower solution offered by Saab, allowing ANSPs and appropriate stakeholders to digitally authorize and manage unmanned flights in conjunction with manned flights, directly communicating authorization, clearance, and in-flight instructions to provide enhanced situational awareness of drone operations.
"We've been working with Saab Tower Systems and Saab (operating the world's first Digital Tower Center in Sundsvall, Sweden) for some time and I'm excited to announce the formal partnership agreement. Our partnership with Saab allows us to seamlessly fuse cutting-edge ATM and UTM technologies in one innovative offering reducing time, effort, and complexity for airports, ANSPs, and drone operators to safely carry out operations integrated into the airspace," said Richard Ellis, Altitude Angel, Chief Business Officer. "Through the integration of GuardianUTM, Saab will be able to provide Digital Towers which are equipped and ready for the demands of our future skies, as the use of drones increases and Urban Air Mobility through eVTOL aircraft becomes a day-to-day occurrence."
"In Altitude Angel, Saab can partner with the provider of the leading UTM platform in order to provide our airport and ANSP customers with the greatest and most accurate picture of the sky they manage," said Per Ahl, Saab Digital Air Traffic Solutions, Chief Executive Officer. "In harmony with the capability the Saab r-TWR gives us, GuardianUTM Enterprise is providing us with key functionalities that future proof our product for existing and new customers" 
Find suppliers & manufacturers of UTM Technology & Components >>