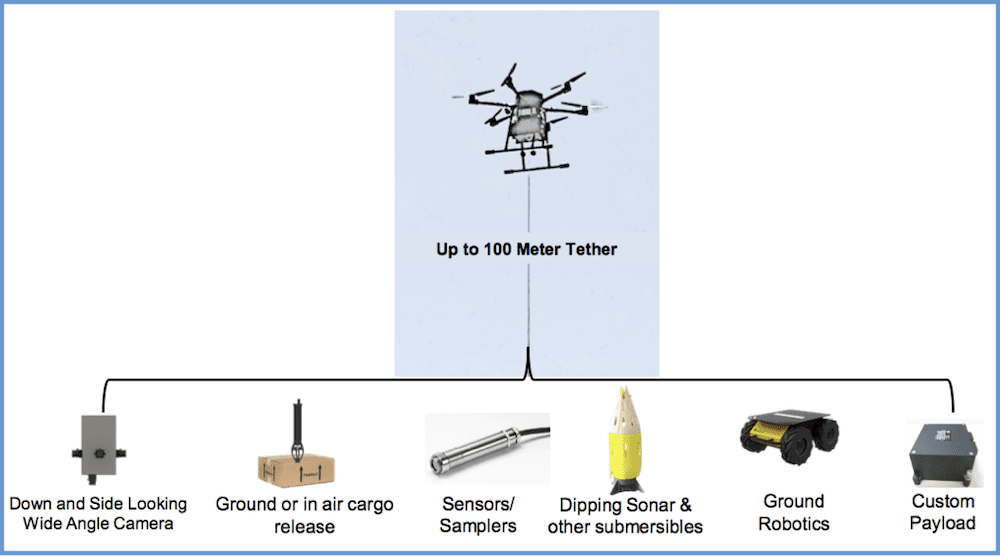 Unmanned Systems Operations Group (USOG) has successfully demonstrated its Smart Tether System to Department of Defense, Department of Homeland Security, and Federal stakeholders during the Advanced Naval Technical Exercise (ANTX) Coastal Trident 2022 at Port Hueneme, CA, in September.
The demonstration evaluated the capabilities of a COTS UAS that integrated a radiation sensor payload to detect, store, and transmit radiological data (gamma and neutron) in real-time to a remote operator, or Command and Control center.
The USOG Smart Tether System (STS) was integrated with a Sensor Technology Engineering Linear Radiation Monitor (LRM) radiological gamma and neutron sensor(s) and was remotely lowered and retrieved from a height up to 120 ft AGL.
According to USOG, this system is the industry's first 'dual purpose' winch system that can transport and deliver physical goods as well as collect, transmit and deliver 'information'.
"ANTX-CT22 provided USOG the opportunity to deploy, and demonstrate an integrated system for search, detection, and identification of radiological sources in maritime, or shore environments," said Pharns Genece, Founder and CEO USOG, Inc. "The USOG STS system will provide a UAS standoff search of buildings, vehicles, cargo, or vessels. This capability would enhance DoD/DHS capabilities to remotely and quickly search between stacked MILVAN containers (10 containers high) at sea or ashore. Additionally, the USOG Smart Tether System can be submerged, and provide secure communications with other submersible payload devices such as acoustic transponders, sonars, and salinity, temperature, density sensors in real-time."
USOG Smart Tether System Features
Basic system can lift over 100 pounds with 100% tether snap load rating
Optionally powered by drone battery or can be self -powered – adapts to majority of COTS UAV platforms, expanding customer's choices
Full control user or autonomous release of cargo – no gravity released cargo connectors
USOGs active 'smart' tether carries video, and almost an unlimited data formats protocols for sensors, and other devices for near real time transmission to the user
Tether is fully submersible for sensors, and other cargo that need to be submerged in salt or fresh water
Variable tether lengths up to 100 meters – drone lifting capability dependent
User can control all STS winch functions remotely: start, stop, engage system, brake, or release of cargo
Multiple pre-flight STS sortie plans can be created, and executed as flight and other conditions change during sortie
Optional multiple color low light cameras located on the tether for an 'operator view' (200-degree downward view)
Custom cargo and sensors can be easily integrated
In development – sway control system for accurate cargo placement (24-inch accuracy at 100' AGL)
Find suppliers & manufacturers of Tether Systems for Drones & UAS >>