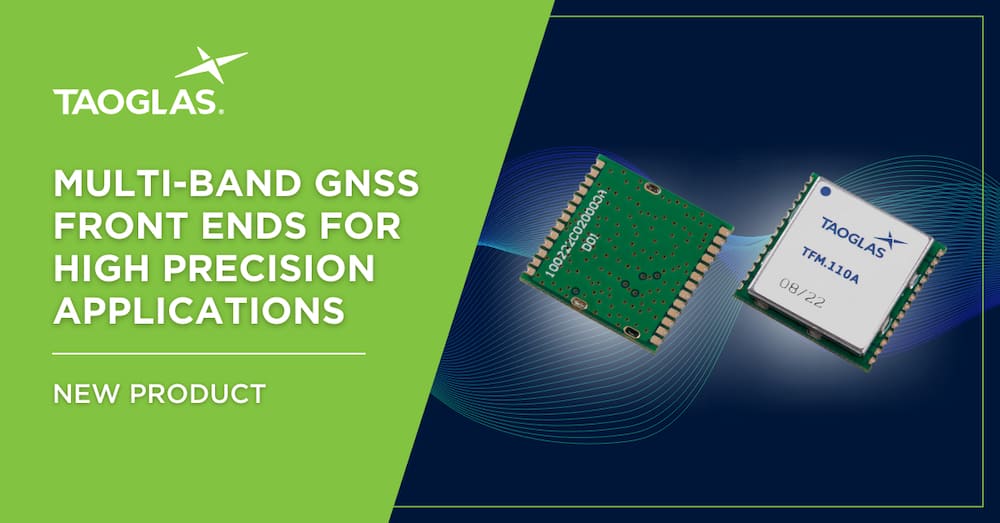 Taoglas has announced the launch of the first in its new series of high precision, multi-band GNSS front ends for autonomous vehicles, precision agriculture, automotive, Unmanned Aerial Vehicles (UAVs) and robotics.
Introduced at Mobile World Congress (MWC 2022), the new TFM.110A comes fully integrated with two cascaded Low Noise Amplifiers (LNA) and pre-filters in a small, low-profile, shielded surface mount package. When used between the device's GNSS receiver and antenna, Taoglas believes the two-stage amplifier solution saves designers months to years of engineering hours by eliminating the need for complex and challenging onboard filter and amplifier circuits. Designed for performance, robustness, and ease of use, the new TFM series enables seamless signal transmission, signal purity and position accuracy, and safety and collision prevention in Internet of Things (IoT) and high precision applications.
Investments in geolocation, telematics and positioning services have made GNSS receivers commercially available, presenting more options to integrate satellite connectivity into product designs. However, customization is required to properly set the performance across the entire signal chain; external RF circuitry is needed to deliver sufficient gain to the receiver without compromising the noise figure of the system. Having access to receiver-optimized RF solutions with high gain and low noise figure would help designers mitigate integration challenges and technical roadblocks that add design cycles.
The TFM.110A offers a fully integrated external RF circuit in a 15.5 x 15.5 x 2.76 mm package for use between GNSS receivers and Taoglas' extensive range of high precision multi-band antennas. Supporting L1, L2, and L5 bands, the two-stage amplifier solution drives high gain, low power consumption and low noise figure across the full signal chain for signal accuracy, integrity, and continuity.
"Taoglas delivers practical antenna and RF solutions that simplify wireless product development and accelerate launches," said Olivier Robin, COO at Taoglas. "Our new TFM series is a great example of how we convert multi-year learning cycles into products that help customers save time, save space, and improve performance."
TFM.110A Features & Benefits:
Ease-of-integration – Single-package solution combines impedance matching, careful filter selection and low noise design for easy, drop-in use with any antenna or GNSS receiver
Low-noise System Design – Integrated pre-filters deliver exceptional out-of-band rejection combined with LNAs to properly set noise figure across the full signal chain
High-gain Architecture – Cascaded LNAs with pre-filters and optimized impedance matching deliver sufficient gain to the GNSS receiver without signal-to-noise overload
Low-profile Form Factor – Small footprint and low-profile design in a shielded, surface mount package saves valuable real estate without the need for external components
Accelerated Development Cycles – Multiple years of development and learning cycles by RF design experts, delivering the highest levels of integration, manufacturability, and robustness
Find suppliers & manufacturers of GPS/GNSS Products for Unmanned Technology >>