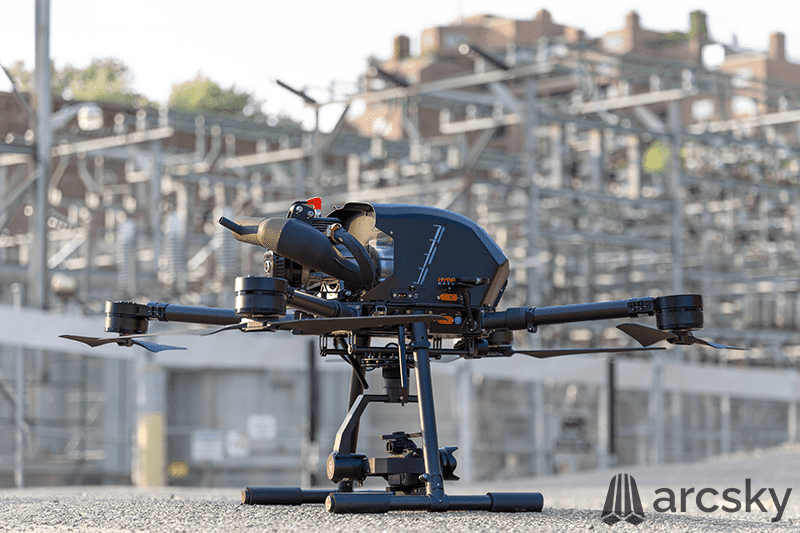 Arcsky has announced the release of its X55 quad-rotor Unmanned Aerial Vehicle (UAV), a new utility drone designed for applications such as inspection, mapping, search & rescue, cinematography, agriculture, border patrol, and more.
The X55 features two different power modules:
The Hybrid Module is a gas-electric generation system that gives the drone up to 3 hour flight times with smaller payloads of up to 6 pounds.
The Battery Module comes in two varieties, bottom-mount and top-mount, and can be used to power the drone for applications where a heavier payload of up to 20 pounds is required, with a flight time of up to 23 minutes.
The modularity and quick interchangeability of the power sources ensures that the X55 airframe will not become obsolete when new modules are introduced.
A universal rail mounting system means that practically any payload can be mounted and flown, and the accessory power and communication ports allow those payloads to be easily integrated into the control system and ground station. The X55 can be run autonomously, with missions that can be programmed via waypoints and industry-standard ground control stations.
For easy integration with a variety of payloads, the X55 offers an accessory power port, which can deliver 5V, 12V, or 44.4V (12S) power, and an auxiliary communications port, which provides access to CAN, UART, PWM, SBus, and I2C outputs, in order to control gimbals, servos, drop-kits, and a variety of custom integrated solutions. The communication bay of the airframe gives access to FPV, receiver, and telemetry module connections, allowing the operator to customize those items if desired.
The whole system can be transported with ease, by using the optional transport cases. The airframe folds into a compact volume in less than a minute, and the Hybrid Module has its own dedicated case.
The default controller is the Herelink, which is an integrated controller, ground station, and digital transmission system that has the ability to plan missions and automate flights, in addition to offering a range of up to 12 miles (20 km) in ideal conditions. Other industrial controllers are also easily supported and can be integrated by request.
The X55 is RTK capable and only requires the setup of the base RTK station to utilize this feature, which then provides centimeter-level accuracy and much better performance in position-holding (loiter) modes. An optional terrain-following rangefinder is available, which can help to avoid collisions in varying terrain conditions, as well as improve the altitude-holding performance in many situations. A variety of FPV cameras can also be integrated, allowing high definition live video feed, directly on the ground station or controller.
Technical Specifications
Max Takeoff Weight: 55 pounds (25 kg)
Empty Weight: 18.2 pounds (8.25 kg)
Operating Temp: -4F to 113F (-20C to 45C)
Max Speed: 60 mph
Voltage: 12S (44.4V)
IP Rating: IPX7
Autopilot: Cube Orange
Flight Modes: Manual, Altitude, Loiter, Mission, RTL
Supported Radio: Herelink, Futaba, FrSky, and more (SBus compatible)
Supported GNSS: Dual Here 3 GPS
Payload Rail: 12mm OD, center-to-center 165mm
NDAA Compliance: NDAA compliant version available
Find suppliers & manufacturers of Industrial Drones & UAS >>