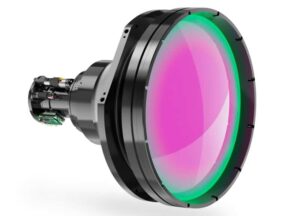 Ophir Optronics Solutions has released the SupIR 60-1200 MWIR f/4 lens, designed for SXGA/HD 10µm and 15µm VGA pitch FPA (focal plane array) cooled MWIR cameras. Equipped with an automated zoom interface and continuous zoom, it delivers sharp and clear imagery across the entire field-of-view and throughout the full zoom range, and is ideal for C-UAS (counter-unmanned aerial systems) platforms.
The Ophir SupIR 60-1200mm f/4 has a horizontal field-of-view (H-FOV) of 0.3°-8.6°. It is the newest addition to the SupIR SXGA/HD 10µm detector-compatible series of lenses, which are designed to withstand harsh environmental conditions, providing an operating temperature range from -32ºC to +85ºC. These lenses features Ophir's advanced abrasion-resistant, anti-reflective (AR) coatings; IP 67 sealing; and a mechanical design that withstands severe shock and vibration.
Ophir lenses are designed for ease of mechanical and electronic integration using Ophir's standard software for optimal integration, calibration, and field operation. In addition, the lenses are equipped with zoom controller features for continuous zoom with focus retention, automatic focus compensation throughout temperature and zoom ranges, close objects focus mode, focus blurring for NUC calculation, and full manual and automatic control of zoom and focus positions.
Dr. Kobi Lasri, General Manager of Ophir Optics Group, commented: "The SupIR 60-1200mm MWIR f/4 lens is a game changer for homeland security and defense applications. The extended observation range, high performance continuous zoom capabilities, and ruggedized design allow for early and accurate identification and tracking of fast-moving targets without losing sight."