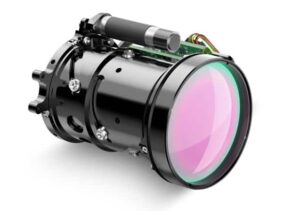 Ophir Optronics has launched the LightIR 18-225mm MWIR f/4 continuous zoom lens, the newest addition to the LightIR family of low-SWaP (size, weight and power), high-performance, motorized continuous zoom lenses. Introduced at Eurosatory 2022, this compact, thermal imaging lens is optimized for smaller size 10µm SXGA/HD FPA (focal plane array) and 15µm VGA FPA detectors.
The LightIR 18-225mm MWIR f/4 lens features a compact design with reduced optical elements that significantly decreases the length and weight of the lens and, therefore, the overall size and weight of the optical system in which it is incorporated. The lens weighs only 326g, making it 20% smaller than similar lenses. This makes it ideal for the demanding requirements of reduced SWaP and small gimbal thermal imaging applications, such as drones and tactical UAV IR cameras, as well as micro/mini-tactical payloads in the commercial, homeland security, and defense markets.
The innovative design of the Ophir LightIR 18-225mm f/4 lens enables near diffraction-limit performance in harsh environments. It also addresses such challenges as line-of-sight (LOS) stabilization, athermalization, maintaining focus throughout the entire zoom range, and high imaging performance. The mechanical and electrical interface of the lens assures easy integration into camera systems.
Dr. Kobi Lasri, General Manager of Ophir Optics Group, commented: "The LightIR 18-225mm f/4 zoom lens addresses the new market shift toward smaller pizel size detectors. The new zoom lens combines low-SWaP capabilities, a detection range over 16+km, and cost-effective pricing. This makes it an enabler for advanced drone, UAV, and small gimbal thermal imaging applications."