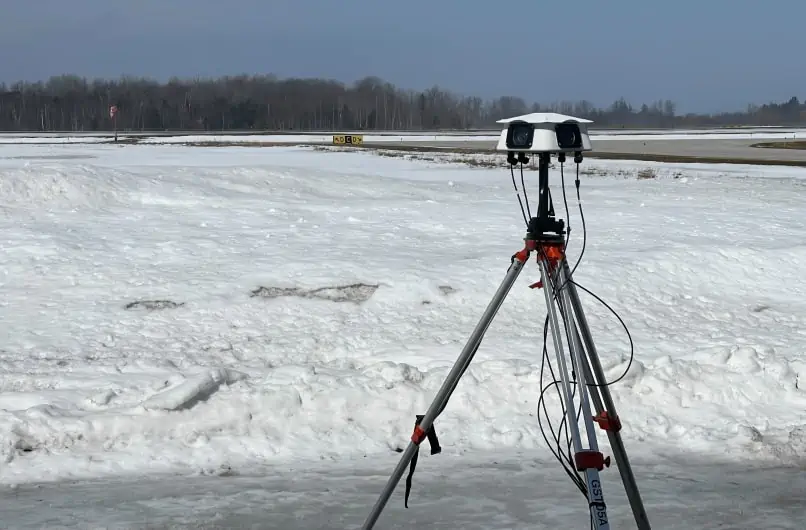 Iris Automation has partnered with micro weather data and analytics firm TruWeather Solutions to integrate weather services and sensors into the Casia G ground-based surveillance system (GBSS) for UAS (unmanned aerial systems).
Micro weather or low-altitude local atmospheric conditions can often substantially differ from that in higher altitudes, injecting uncertainty into the safety equation. This can significantly impact UAS and advanced air mobility (AAM) operations and revenue. According to an FAA-funded MIT Lincoln Lab study, currently only 3% of the U.S. has accurate surface weather and cloud ceiling report measurements.
TruWeather has recently turned its focus to sensor placement and density optimization to capture microscale features with rapid updates. Incorporating a mesh network of weather sensors into Iris Automation's non-radar based passive ground based system, Casia G, will provide real-time integrated communications, collision avoidance and micro-weather data to operators.
Casia G is a ground-based detect and avoid (DAA) solution that allows operators to better detect approaching aircraft and avoid collisions. It leverages the same artificial intelligence and computer vision technology used in the company's Casia series of onboard integrated systems, including its 360 degree / 6-camera system, Casia X. The Casia product line provides unparalleled situational awareness for intelligent decision-making, including alerts and manual or autonomous collision avoidance.
All Casia onboard systems can detect a small general aviation aircraft at an average distance of 1.2 km with a 93.2% detection rate. Comparatively, Casia's milliseconds reaction time exceeds that of human pilots, who take about 12.5 seconds on average to avoid collision threats.
Don Berchoff, CEO of TruWeather, retired U.S. Air Force Colonel and former senior executive Service Technology Director of the National Weather Service Science, commented: "This is what we refer to as a 'data desert'. Up to 40% of crewed aviation flights that are either canceled or delayed due to weather could have flown. Even higher scrub rates will occur for UAS flying beyond-visual-line-of-sight, with no pilot on board to spot problems, unless the surface and low altitude weather measurement gap can be closed."
"The industry requires even more low altitude weather measurements to increase data fidelity and flights per airframe. Without this, uncertain micro weather and wind conditions will result in conservative business decisions. Failure to resolve this problem will result in fewer flights, disgruntled customers and significant revenue losses."
Lori DeMatteis, VP of Sales, Marketing and Customer Success at Iris Automation, said: "Micro weather information is critical to commercial drone operations, avoiding aborted flights and unnecessary risks and overhead in order to meet the FAA 107 weather minimums. Combined with Casia G, the TruWeather solution provides up to the minute, highly localized climate information to ensure safe drone operations in one easy setup. This meets the FAA's stringent requirements and offers the ability to bring together all the required data in one dashboard."
"This partnership will drive the expansion of BVLOS safety best practices, offering clients immediate value to ensure operational safety, and rapidly changing climate information for emergency preparedness activities, ensuring both public and personnel safety."