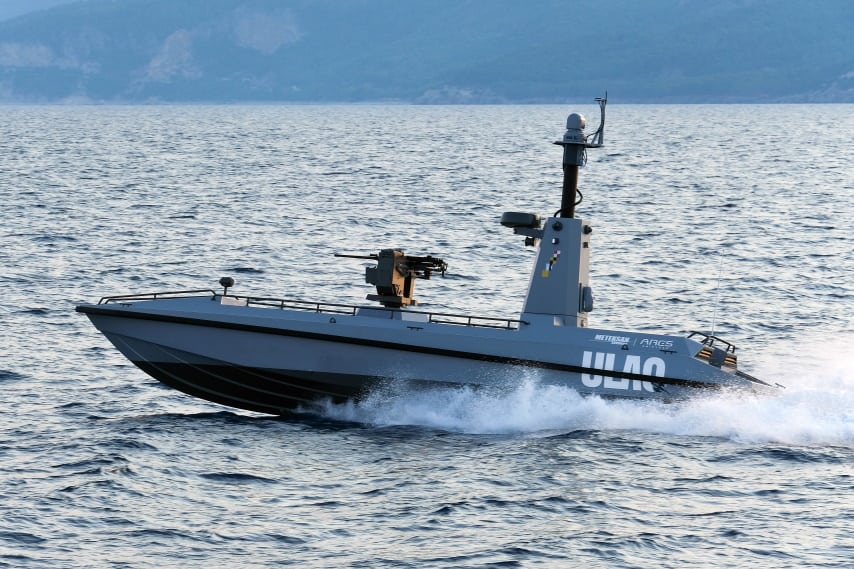 Meteksan Defense, in conjunction with the ARES Shipyard in Antalya, Turkey, has completed successful firing tests with a 12.7 mm remote-controlled weapon system integrated into its ULAQ USV (unmanned surface vehicle). The vessel is designed to provide protection for sea borders, naval bases, ports and critical facilities, and to undertake tasks such as ISR (Intelligence, Surveillance and Reconnaissance), surface warfare and armed escort.
The vessel is manufactured from advanced composite materials and has a cruising range of over 400 kilometers, and a top speed of over 70 kilometers speed per hour. It is equipped with day/night vision capabilities, autonomy, and encrypted communications.
Following the success of this new version of the ULAQ USV, further work will be done to equip the platform with capabilities for surveillance and intelligence, mine countermeasures, anti-submarine warfare, firefighting, and search and rescue missions.
Utku Alanç, General Manager of ARES Shipyard, and Selçuk Kerem Alparslan, President of Meteksan Defense, stated: "We would like to express with great pride and happiness that we have successfully completed all tests including the firing tests with the 12.7mm weapon system of the armed unmanned surface vehicle, ULAQ-AUSV. We are aware of how important the ULAQ Unmanned Surface Vehicle is in the protection of sea borders, naval bases, ports and critical facilities. In this context, we continue our intensive activities to integrate new systems to ULAQ within the scope of different requirements."