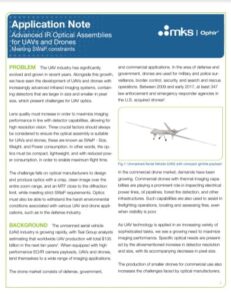 Ophir Optronics has released an application note that details how high-quality lenses are crucial for developing mission-critical optics for UAVs (unmanned aerial vehicles). These optical assemblies must conform to strict SWaP (size, weight and power) budgets without sacrificing imaging performance.
Download the full application note here
The application note covers:
How the requirements for optical assemblies have changed as the UAV industry has grown
Imaging applications in both defense and commercial markets
How Ophir's continuous zoom lenses have been designed to meet the low-SWaP challenge
The capabilities of Ophir's optics products that make them ideal for UAV payloads
Advanced UAV optical solutions are created with cutting-edge manufacturing technologies and unique opto-mechanical designs in order to meet strict constraints without sacrificing performance. To find out more, download the full application note.