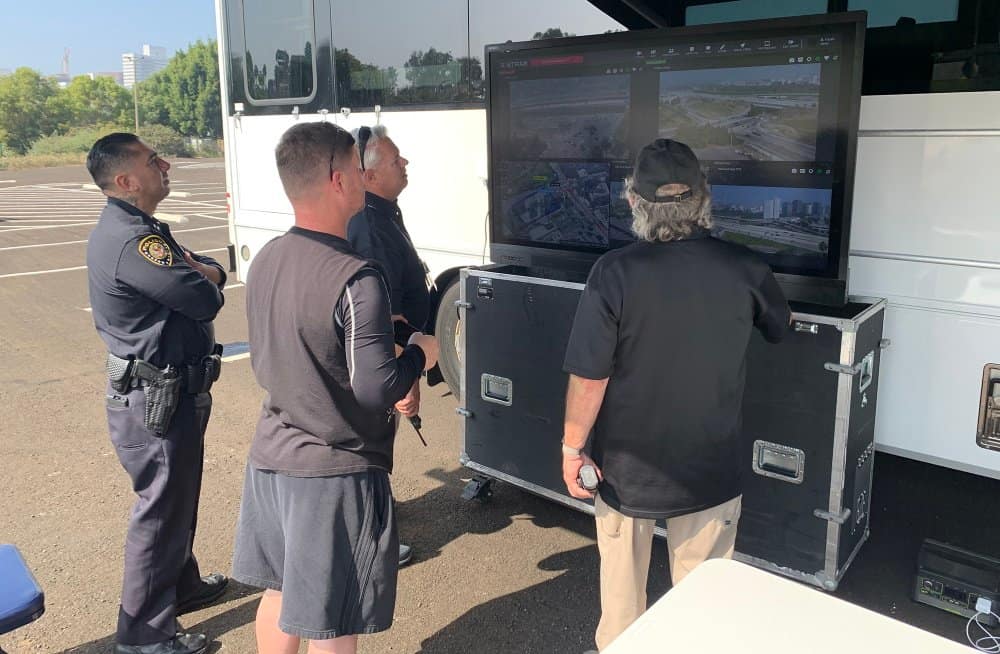 Dejero has released the following article highlighting how its Smart Blending Technology can be used to provide the robust connectivity required for mission-critical public safety drone applications.
From law enforcement to first responders, public safety agencies are increasingly relying on drones to deliver live video for critical monitoring purposes in a variety of challenging environments, including mountainous regions, congested areas and out at sea. In these dangerous, remote or busy environments, it can often be extremely difficult to achieve the stable connectivity necessary to keep people safe. Drone pilots can be limited by antennas in both range and mobility, usually relying on line-of-sight to send and receive critical video data.
The stability, reliability and speed needed to ensure effective situational awareness is attainable using Dejero's patented Smart Blending Technology, which aggregates multiple network connections into a virtual 'network of networks' with high bandwidth and built-in redundancy. Rather than relying on a single, vulnerable connectivity path, the technology combines diverse connections from multiple providers. This means that if there is a problem with one network, the feed remains secure. Video can be sent in real-time with low latency, giving first responders the time they need to make life-or-death decisions. This technology has been proven in the broadcast space over a number of years across breaking news, live sports and live-streaming of events that require uninterrupted connectivity, such as the US presidential inauguration and the Royal wedding of the Duke and Duchess of Sussex.
By leveraging Smart Blending Technology, agencies can rely on live video regardless of the normal network congestion at major events that is caused by crowds of people using the internet at the same time. For instance, at the 2021 US Open golf tournament at Torrey Pines, the San Diego Police officers were able to continuously monitor the crowd due to highly reliable internet connectivity and real-time hi-res drone feeds, enabled by Dejero and AggreGateway. The drone pilots were also untethered from the usual line-of-sight restrictions, allowing them to roam freely throughout the course.
The same technology, this time supplied through Dejero's partner, Rajant, provided seamless connectivity along the Gaviota Coast in Santa Barbara County, California, enabling more than 200 firefighters to safely contain the fire with zero reported injuries. Even in remote areas, the Smart Blending Technology manages fluctuating bandwidth, packet loss and latency differences of the individual connections in real-time to safeguard the virtual network. The live video is accessible by up to eight remote viewers at the same time and available to anyone with a web browser, so response teams know they are seeing the full picture as the situation unfolds.
Used in collaboration with partners in the drone industry, Smart Blending Technology has proved an indispensable tool for UAV experts in the field. When a residential block collapsed in Surfside, Florida, in June 2021, VolAero Drones flew an unmanned aircraft over the disaster site to send a live video feed to numerous emergency operations centers, providing essential footage uninterrupted by the influx of reporters and responders to the scene.
Lexicon Enterprises has incorporated the technology into a new Mobile Intelligence Unit for law enforcement, capable of instant access to live drone video and deployment within 60 seconds. IP Access International has also integrated Smart Blending Technology into its mobile and satellite networks that serve over 900 public safety agencies, allowing operators to receive mission-critical drone feeds regardless of where a command vehicle happens to be parked.
As drones illuminate the future of public safety, it is vital that connectivity keeps up with these gains in UAV technology in order to deliver critical information in the most dangerous emergencies. Drones have become essential tools for situational awareness in areas that are crowded, remote or otherwise hard to reach, areas where video links can traditionally struggle the most. Through reliable, resilient connectivity, those real-time feeds provide the data required to make life-saving decisions without delay.