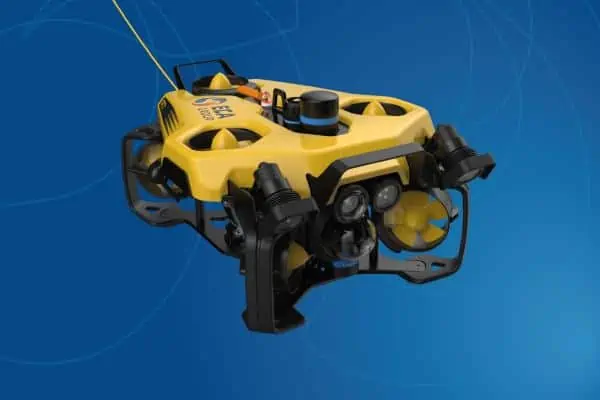 ECA Group has launched the R7, an underwater robotic vehicle that combines the compactness and ease of deployment of mini-ROVs (remotely operated vehicles) with the performance, speed and payload carrying capacity of professional observation-class ROVs. The R7 has been unveiled at the Ocean Business 2021 exhibition in Southampton, UK.
The R7 has been designed for missions at depths of up to 300 metres, and is ideal for oceanographers, hydrographers, fish farmers and operators of submerged structures, with the ability to carry out inspection, observation, surveillance, maintenance and object recovery.
The system features a full HD video chain from the camera sensors through to the display screens, and the vehicle's camera is equipped with a very high sensitivity wide-angle video sensor for reliable navigation even under difficult visibility conditions. This camera is combined with high-performance LED lighting to provide an exceptional level of rendering, with 4x optical zoom and vertical rotation movement.
The 15″ touch screen of the control unit and a second screen enabling the display of several data sources such as cameras or sonars simultaneously give the operator a high level of visual comfort. A USBL beacon and DVL are also available for accurate tracking of the ROV's position in real time.
The modular R7 has been built with a 100% digital architecture, facilitating plug-and-play connection of payloads. The vehicle can be equipped with a manipulator arm with up to five functions and the ability to easily handle or recover objects up to 2kg. Sub-assemblies can be interchanged in the field even by a non-specialist operator.
Four horizontal vectored thrusters give the ROV exceptional dexterity in flight mode. A latest generation inertial measurement unit (IMU) coupled with the three vertical thrusters manages vehicle attitude and provides the ROV with high horizontal stability in all directions.
Find manufacturers & suppliers of Subsea Remotely Operated Vehicles >>