Cursir LLC has completed final tests and is summarizing the results of Research and Development (R&D) on the NAVAID Calibration Drone project which aims to create an Unmanned Aircraft System (UAS) for performing flight checks of ground-based radio technical support and lighting equipment.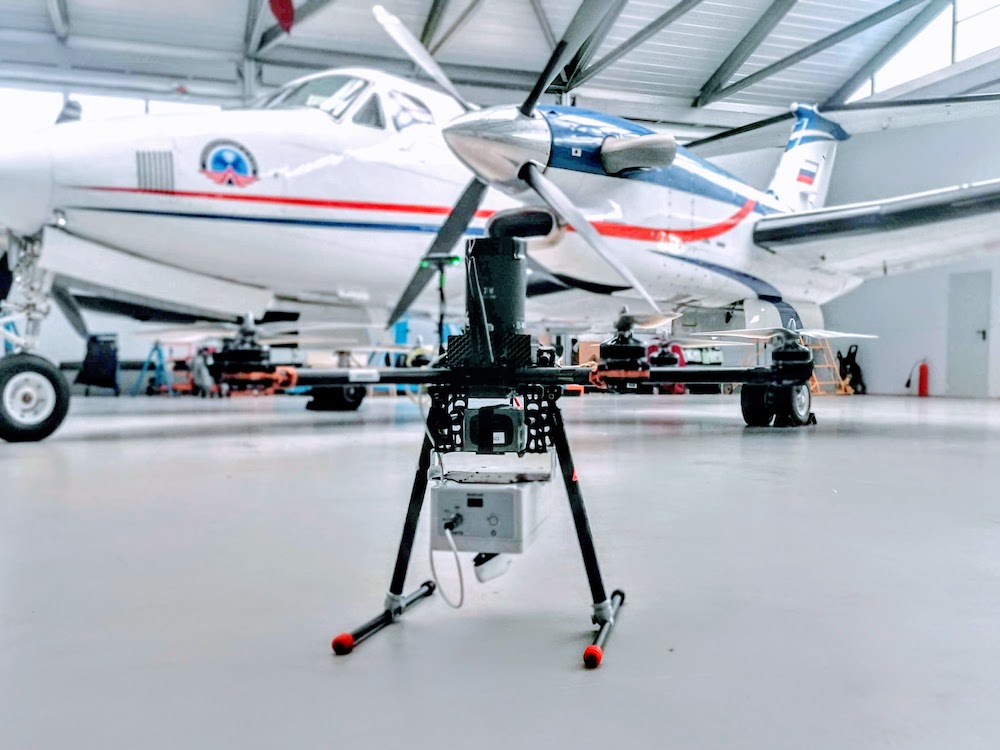 R&D was carried out as part of the group's work with Russian Air navigation service provider Federal State Unitary Enterprise 'State Air Traffic Management Corporation of the Russian Federation' on the implementation of UAS for tuning and checking the spatial characteristics of ground-based navigational facilities.
At the preliminary stage of the NAVAID Calibration Drone project implementation, Cursir carried out flight tests jointly with Russian flight inspection service provider Aerokonotrol at Zhukovsky Airport, calibration in the lab and climatic tests, EMC study and antenna calibration in an RF anechoic chamber, and field tests.
An important issue when using drones for radio measurements is how the design of the drone and its equipment affect the signal, because any of the parts can create interference. To improve the signal quality, multiple tests of the NAVAID Calibration Drone were carried out in an anechoic chamber. During these tests it was found that blades made of carbon are not suitable for this type of drone due to their conductive properties – the optimum propeller material is wood or nylon.
A key stage in the introduction of UAS into everyday operations is a series of successful flight checks with measurements of ILS, VOR, Marker, RDF, PAPI. Successful tests were carried out at the following airports:
Ulyanovsk for commissioning of ILS and DF systems
Chelyabinsk for PAPI night flyby, ILS night flyby, and day flights
Kurgan for winter tests
Orsha
Belarus for commissioning of ILS and VOR systems
All tests were a qualified success.
The Russian manufacturer of radio navigation systems NPO 'RTS' involved Cursir in commissioning ILS at Ulyanovsk airport. The drone performed pre-configuration of the equipment before the arrival of the flight inspection aircraft, in particular, the adjustment of the glide path angle. The use of the NAVAID Calibration Drone made it possible to speed up the operation of the specialised aircraft, saving it several visits to adjust the nominal course.
These are the first tests of UAS for testing radio navigation equipment on the territory of the Russian Federation and part of a large innovative work on the introduction of autonomous robotic technologies into the daily life of every airport in Russia and its neighbors.