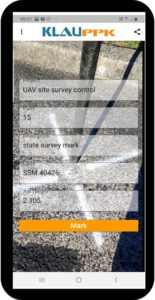 Klau Geomatics has introduced a new ground surveying app that enables surveyors to leverage the KlauPPK hardware and software solution from their drone to do regular ground surveying.
The KlauPPK Phone App enables users to collect points with a name, description and code, just like a typical survey controller. The app then sends the information to the operator's computer for processing with the raw Global Navigation Satellite System (GNSS) data logged in the KlauPPK unit on the pole.
After post processing, the accurate survey data can be brought into Computer-Aided Design (CAD) software to create points and line strings. The app also takes a photo of the point being captured, in case there are any uncertainties in the capture when users are back in the office.
Users can unclip the KlauPPK unit from the drone and clip it to the pole bracket. Metadata is collected in the project, and point name, description, feature code and antenna height are all logged for each point.
The cost-effective system allows users to place a few Ground Control Points (GCPs) or check points, carry out real survey work, pick up as-built data like roads and utilities, and perform basic surveying.
The system is compatible with the hybrid PPP/PPK MakeItAccurate post processing service to give high absolute accuracy anywhere without a base station.
Find suppliers of Geospatial Analysis Software for Drones & Unmanned Systems >>