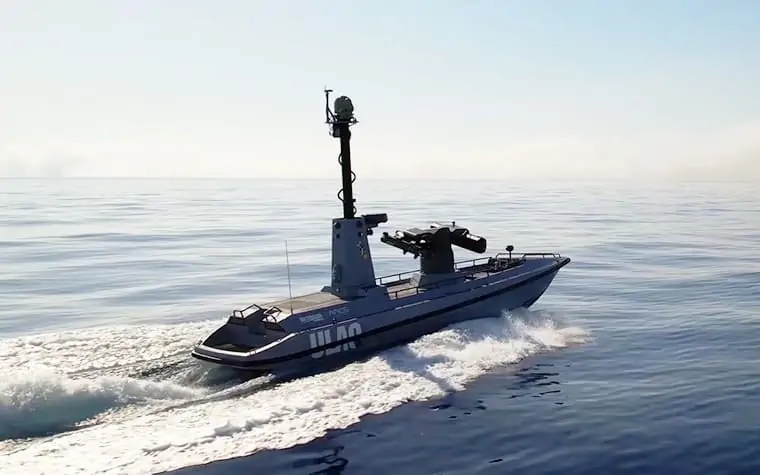 Meteksan Defence has successfully completed missile firing tests with its ULAQ armed USV (unmanned surface vehicle), which has been developed in conjunction with ARES Shipyard. The tests, which took place during the Turkish Navy's Sea Wolf 2021 naval exercise saw two CIRIT laser-guided missiles successfully hit their target.
The ULAQ USV, which was positioned in the south of Antalya Bay with the Turkish Navy's manned platforms, was controlled from a Mobile Coastal Control Station (MCCS) and transferred to the firing area. The Naval Forces Command and Coast Guard Command vessels also accompanied the firing. After the target was detected by sensors on the ULAQ, the missiles were fired and scored direct hits on the target.
ULAQ is Turkey's first armed unmanned surface vehicle and can be operated from mobile land vehicles, fixed command centres or floating platforms such as aircraft carriers and frigates. It is ideal for missions such as ISR (intelligence, surveillance and reconnaissance), surface warfare, asymmetric warfare, armed escort and force protection, and critical facility security.
The autonomous AI-powered platform is equipped with four CIRIT and two L-UMTAS Missile Systems provided by Turkey's missile systems manufacturer ROKETSAN. It can also be configured with a variety of other payloads such as extended range surface-to-surface, surface-to-ground and surface-to-air missiles, electronic warfare, jamming, and different communication and intelligence systems. It can operate in conjunction with other USVs as well as manned and unmanned aircraft.
The firing tests were attended by senior officials from Turkey's Presidency of Defence Industries, the Ministry of Defense, Turkish Naval Forces Command and Coast Guard Command.
The development of this armed USV represents the first phase of the project initiated by ARES Shipyard and Meteksan Defence, and future efforts will involve the development of variants for intelligence and electronic warfare, mine hunting, anti-submarine warfare, firefighting and humanitarian aid/evacuation.
Prof. Dr. İsmail Demir, President of Defence Industries, commented: "Today, it is obvious that we must have a naval force for the protection of the Blue Homeland and the protection of our rights in the Aegean and Eastern Mediterranean. In order to provide the platforms needed by our Naval Forces, we will continue to work as the Presidency of Defence Industries in close cooperation with our Ministry of Defense, General Staff, Naval Forces Command, our industry and other relevant institutions. We have reached an indigenousness rate of up to 70 percent in our projects, and we will increase this even more."
"The days have come where we began to see similar products to the game-changer UAVs, now in land vehicle, surface vessel and submarine forms. We are aware that combat environments with integrated unmanned systems await us and therefore we continue our work accordingly. We are supporting the endeavors to be put forward in this regard and we will continue to support them."