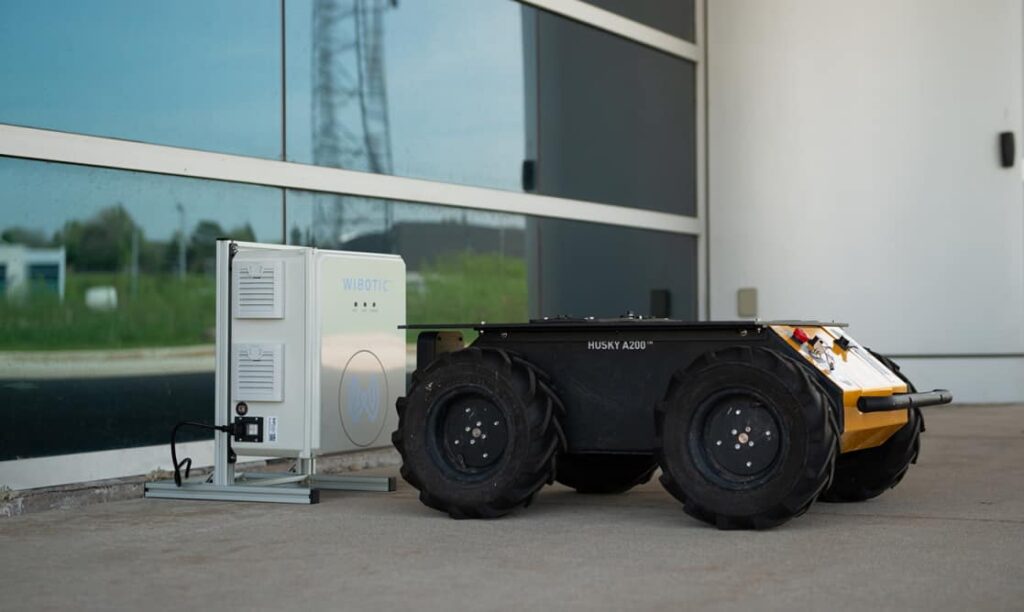 Clearpath Robotics has collaborated with autonomous charging and fleet energy management solutions provider WiBotic to develop wireless charging kits for Clearpath's Jackal and Husky UGVs (unmanned ground vehicles). The kits can either be installed on new Clearpath robots before they are shipped, or easily retrofitted to existing systems.
The kits are designed to provide a turnkey solution for wireless power, providing Clearpath customers with fully autonomous battery charging. Once a Jackal or Husky robot navigates to within several centimeters of a charging station, power is automatically delivered through the air, providing reliable battery charging even in difficult outdoor environments.
Each kit contains a WiBotic charging station with wireless transmitter, housed in a weatherproof enclosure, and WiBotic receiver components and mounting brackets specially designed by Clearpath for each particular robot model.
Benefits provided by the new wireless charging kits include:
Operational cost savings – Jackal and Husky robots can now autonomously charge themselves in remote environments or where it is expensive or hazardous to employ humans to monitor and charge batteries.
Reliability – the fully sealed wireless power kits dramatically increase the reliability of autonomous robots in environments where dust, dirt, debris and moisture may cause corrosion and mechanical failure.
Programmability – WiBotic chargers provide complete visibility into a robot's charging process and can be programmed to deliver the ideal voltage and current for every charge cycle. It may be beneficial, for instance, to charge a particular robot's battery as quickly as possible during working hours to minimize downtime. Overnight, however, it is typically better for the battery's long-term health to charge more slowly.
Flexibility – the new kits provide up to 5cm of antenna air gap/misalignment while still delivering full power and efficiency, giving them an advantage over contact-based autonomous docking systems that require precise alignment to ensure proper contact.
Universality – different robots use different battery chemistries, voltages and charging rates. The transmitters provided in these kits are universal, so a fleet of highly diverse robots can share the same charging stations as their Jackal and Husky counterparts.
Fleet management – WiBotic Commander allows customers to manage networks of charging stations and larger fleets of robots, and aggregates historical information on every charge cycle for every robot and provides analytics for optimizing fleet-wide charging processes and battery performance.
Ben Waters, CEO at WiBotic, commented: "Clearpath has been revolutionizing autonomous robotics for over a decade. Their robots operate across a wide array of rugged environments, from construction sites, to oil refineries, to railroad tunnels. With WiBotic technology built into their new wireless charging kits, the Jackal and Husky robots can now operate truly on their own. It's a huge leap forward for operators who want to operate their robots more autonomously and efficiently while also eliminating the potential risks associated with manual battery charging in these often-harsh environments."
Julian Ware, General Manager at Clearpath Robotics, said: "We're truly excited to partner with Wibotic, a world leader in wireless charging solutions, to extend the capabilities of our robotic platforms. We had looked for years to find an affordable, rugged, and fit for purpose charging solution for our platforms and in Wibotic we finally found what we were looking for. The value of a mobile robot in commercial services is proportionate to its uptime. With Wibotic wireless charging, our customers are now able to extend the useful runtime of their autonomous robots over the course of a workday without intervention."