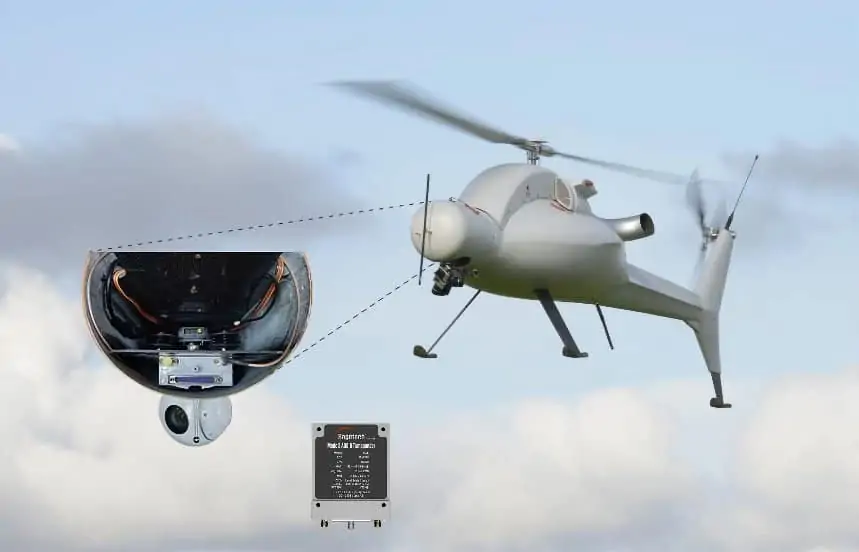 Sagetech Avionics has entered into an agreement to integrate its MXS transponders and Detect and Avoid (DAA) systems into Pen Aviation's PEN 55V midsize drone and PEN 1360V heavy cargo drone. The two companies will work together to certify Pen Aviation's UAVs (unmanned aerial vehicles) for operation in global airspace via a project that will involve five stages: design, develop, test, validation, and finally full production.
Sagetech's DAA system is a low size, weight, and power (SWaP) solution suitable for use on commercial unmanned aircraft as well as urban air mobility (UAM) platforms. The ACAS-based system features a transponder, an interrogator, an ACAS-based DAA computer, software package, and other essential components. It is compatible with many off-the-shelf low SWaP radar and other traffic sensors.
Sagetech's next-generation MXS miniature transponder provides Mode S and 1090 MHz ADS-B In/Out for worldwide UAS regulations compliance, all integrated in a single miniature package. Featuring top and bottom monopole antennas, the transponder provides full pattern coverage for enhanced visibility and safety.
Pen Aviation is developing mid to heavy size drones, co-designed and manufactured with its French partner, Cavok-UAS. The PEN 55V is a fully automated VTOL rotary tactical drone with a high level of safety, easy deployment and low maintenance requirements. It features an endurance of 2.5 hours, speeds of up to 110 km/h and a payload capacity of 15kg.
The PEN 1360V is a fully automated multi-mission VTOL rotary cargo drone, designed to carry heavy payload over long distances. Capable of carrying up to 770kg over 675km, it features an endurance of up to 3.8 hours.
Tom Furey, CEO of Sagetech Avionics, commented: "Detect and Avoid systems are critical for ensuring that UAVs such as Pen Aviation's are able to meet and complete their mission successfully and safely in ever more crowded airspace. We are pleased to partner with Pen Aviation, a recognized leader of aerospace innovation in Asia and Europe, providing certifiable situational awareness solutions which support their innovative unmanned vehicles."
Jean-Bernard Boura, Managing Director and Founder of Pen Aviation, said: "We decided to expand our product and service offerings into unmanned vehicles because we feel it is definitely the future of aviation. Sagetech Avionics' long history of providing robust and certified unmanned situational awareness solutions and their clear path to certifiable DAA will help ensure our UAVs can perform critical missions in dense airspace safely and without incident."