The US Federal Aviation Administration (FAA) has issued the Technical Standard Order (TSO) of the Sagetech Avionics MXS, Mode S Transponder with integrated ADS-B In and Out.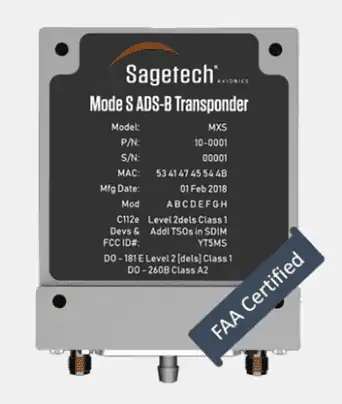 Sagetech's next-gen MXS miniature transponder provides Mode A, C, S, and 1090 MHz ADS-B In/Out and is suitable for use worldwide by crewed or uncrewed systems. Each transponder comes with user-friendly command and control software with a built-in traffic display for situational awareness, or can be used plug and play with PX4 and Ardupilot based Autopilots. The MXS transponder is designed for improving aircraft visibility and safety, especially when low Size, Weight and Power (SWaP) are critical.
The company claims that its MXS is the first FAA-certified small transponder to have an integrated ADS-B In receiver and is the first small, certified ADS-B receiver in the world.
"The MXS provides uncrewed and crewed aircraft OEMs with exciting options they didn't have before, and as usual, our engineers have broken new ground with these Technical Standard Order Authorizations," said Tom Furey, CEO of Sagetech Avionics. "Certification means safety and trust, to know that you will reliably detect all 1090 MHz ADS-B traffic."
Key features of the MXS include:
Unprecedented micro-SWaP
Full diversity
1090 MHz ADS-B In/Out
Flexible I/O – RS232, RS422, ethernet
One box solution including ADS-B In/Out
Since Sagetech's MXS and the MX12B Department of Defense (DoD)-certified military Identification Friend or Foe (IFF) transponder share a common hardware platform, the MX family represents a logical solution for an OEM positioning their aircraft in both the civil and military markets. Unmanned Aerial Systems (UAS) providers can install the MX12B for their military customers, or swap it out with an MXS for their civil customers: no additional integration, no software changes, no aircraft changes.
The company created the micro-transponder segment and will continue to build on its MX capabilities. The certified MXS is the cornerstone of Sagetech's Detect and Avoid (DAA) architecture which will support Beyond Visual Line Of Sight (BVLOS) operations by its customers. Sagetech's DAA products will accelerate the next generation of UAS-based services for both defense and civil customers.
Together with the MXS, Sagetech's ACAS-based DAA platform will provide an advanced, certifiable DAA system for crewed and uncrewed aircraft with onboard, full power, low SWaP collision avoidance capability.