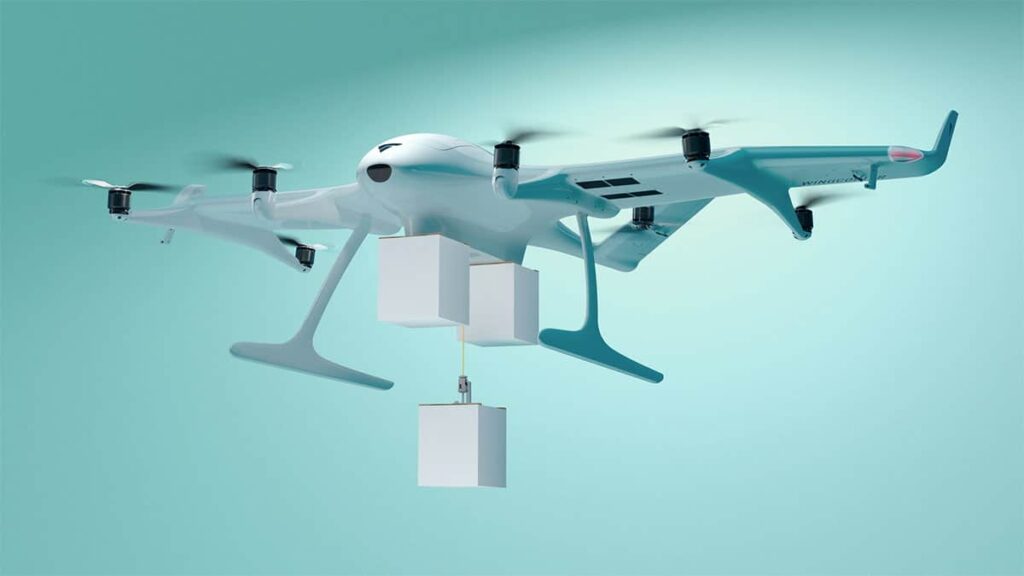 Wingcopter has introduced a new electric vertical-take-off-and-landing (eVTOL) fixed-wing delivery drone that features a unique triple-drop mechanism that allows for separate and precise winch-delivery of up to three packages to multiple destinations per flight. The Wingcopter 198 builds on the company's broad experience in aviation innovation and has been designed from the ground up to meet aviation safety and reliability requirements.
Based on Wingcopter's patented tilt-rotor technology, the Wingcopter 198 takes off and lands vertically anywhere without the need for additional infrastructure and smoothly transitions into quiet forward flight. It can carry payloads of 6 kilograms (13 pounds) on one battery charge over 75 kilometers (47 miles), or up to 110 kilometers (68 miles) with less payload, even in challenging weather conditions. This makes the Wingcopter 198 ideal for middle or last-mile delivery, especially in rural areas or hard-to-reach places such as islands, mountainous areas or offshore platforms and ships. The aircraft's top speed of 150 km/h (93 mph) enables on-demand express deliveries.
The unique triple-drop mechanism allows for three smaller packages, two medium-sized packages or one large package, providing maximum flexibility in size and shape. The entire delivery process can be fully automated, and one operator can control a fleet of up to 10 drones simultaneously anywhere in the world via new control station software. The aircraft has been designed with advanced maintenance technology to avoid unplanned downtimes, improve parts reliability, and lower maintenance costs.
The Wingcopter 198 is currently undergoing FAA type certification in the USA. Thanks to the redundant system architecture which includes eight instead of four motors, the Wingcopter 198 provides an extremely high degree of reliability and safety. All other essential components, such as the flight controller, airspeed sensor or battery are also redundantly integrated. Specially developed detect-and-avoid software combining ADS-B, FLARM, Remote ID and visual artificial intelligence interprets the flight environment in real-time and automatically initiates evasive maneuvers. Downward-looking cameras use AI-based optical sensing for accurate and safe parcel dropping as well as precision landing in combination with obstacle avoidance.
The Wingcopter 198 software and interface design were specially designed to make the workflow as simple and efficient as possible. The Wingcopter Cloud allows for mission planning to be independent of the operation by using different control stations. APIs enable developers to seamlessly integrate fleet information into customer software solutions.
Tom Plümmer, CEO of Wingcopter, commented: "The Wingcopter 198 is a game-changer for drone-based deliveries, ready to create logistical highways in the sky. It can be perfectly utilized as a fleet solution in delivery networks to create new opportunities, everywhere."
Jonathan Hesselbarth, CTO of Wingcopter, said: "We applied the many years of experience with the Wingcopter 178, the model that literally enabled us to take off as a company, and applied it to the development of the Wingcopter 198, optimizing every design aspect for ease of use, efficiency and safety. The result is what we believe to be the most advanced, versatile and efficient delivery drone solution in its category."