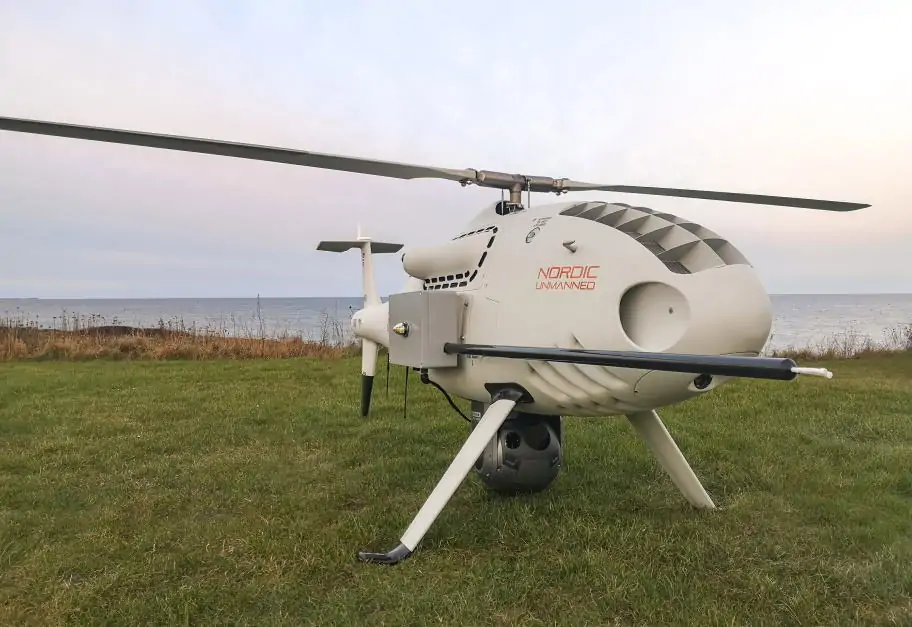 Schiebel's CAMCOPTER S-100 unmanned aerial system (UAS) has been selected by drone services provider Nordic Unmanned as its system of choice for carrying out maritime pollution and emissions monitoring.
Nordic Unmanned has purchased two of the systems, with one already delivered. The acquisition follows successful sulphur sniffer operations with the UAS in Denmark and France, as well as the world's first full-scale offshore UAV cargo delivery to the active oil and gas platform Troll A in Norway. These operations were both carried out by Nordic Unmanned and Schiebel.
Nordic Unmanned and Schiebel have both been contracted by EMSA (European Maritime Safety Agency) to provide UAS services, and Nordic Unmanned has specifically been tasked with measuring ship sulphur emissions to check compliance with the EU rules governing the sulphur content of marine fuels. Measurements are transmitted in real time through the EMSA RPAS (Remotely Piloted Aircraft Systems) Data Centre to the relevant authorities.
The CAMCOPTER S-100 is an unmanned helicopter that is able to operate day and night, and can carry multiple payloads with a combined weight of up to 50 kg. Due to its minimal footprint and size, it is ideally suited for maritime operations.
Hans Georg Schiebel, Chairman of the Schiebel Group, stated: "The CAMCOPTER S-100 UAS has proven its outstanding capabilities and high performance at numerous EMSA operations carrying out maritime surveillance and emission monitoring all over Europe."
Knut Roar Wiig, CEO at Nordic Unmanned, commented: "It's with great satisfaction that we have successfully taken delivery of our first Schiebel CAMCOPTER S-100 system. This is according to our communicated investment plan and we plan to put this first system into operations this spring for EMSA and look forward to the next system delivery."