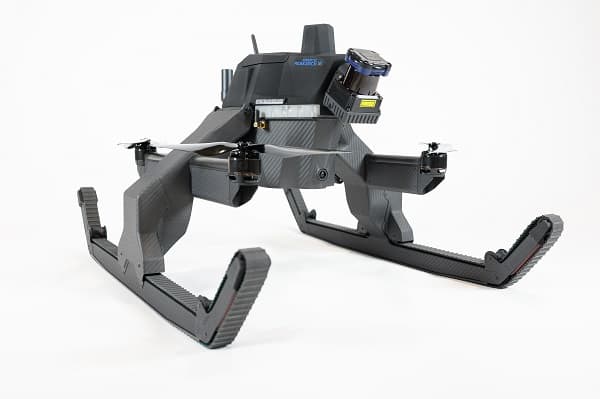 Autonomous and unmanned vehicle technologies provider Robotic Research has joined the Wave Relay Ecosystem, an industry alliance of sensor and unmanned system companies that all utilize Persistent Systems' Wave Relay mobile ad hoc networking (MANET) radio technologies. Robotic Research plans to includes Persistent technology in its Pegasus II, a transformable hybrid autonomous robotic vehicle that provides all the air capability of a VTOL UAS (unmanned aerial system) in conjunction with the capabilities of a tracked UGV (unmanned ground vehicle).
The Pegasus family of autonomous systems was developed for the U.S. Army Combat Capabilities Development Command, to provide support for specialized missions where the system's unique sequential use of aerial and ground capabilities can extend the reach of the warfighter. Pegasus II has demonstrated these abilities during the Army's recent Project Convergence test campaign.
Persistent is due to provide over 10,000 radios/tactical networking devices to the U.S. Army across five UGV Programs of Record. The company is also the prime autonomy provider of autonomous vehicle technology for the Expedient Leader-Follower program, which enables the platooning of unmanned, autonomous trucks, reducing the number of soldiers being put in harm's way for many operational mission scenarios.
Jeffrey Washington, Director of Business Development at Persistent Systems, commented: "The aim of the Wave Relay Ecosystem is to deliver the warfighter a truly unified battlefield network, where all of the sensors and unmanned systems are united to deliver the warfighter real-time situational awareness."
Alberto Lacaze, co-founder and President of Robotic Research, said: "Robotic Research is honored to be a provider of autonomous and unmanned products and systems for a wide variety of defense and intelligence customers across the national security spectrum. As a Wave Relay Ecosystem Partner, we can ensure that we are building our systems to be a part of the larger, integrated warfighter network that is taking shape on the battlefield."
Find manufacturers of Manet Technology for Unmanned Systems >>