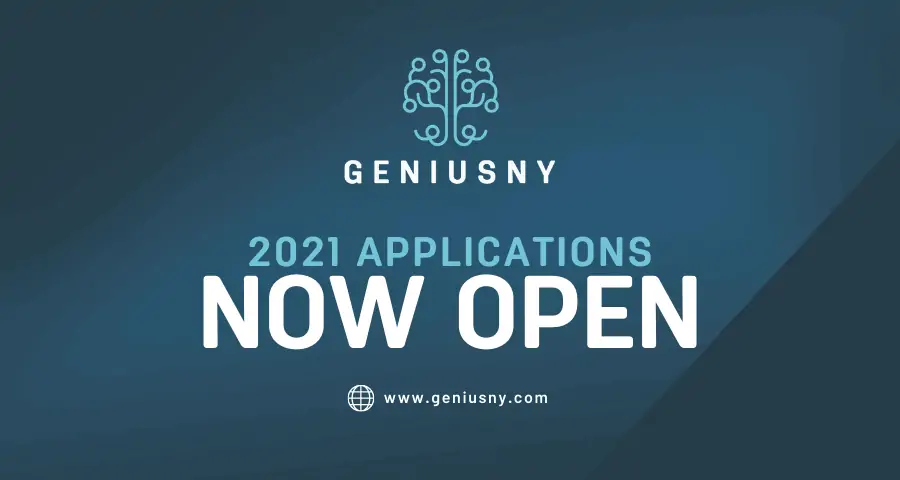 The application window has opened for the fifth round of GENIUS NY – the world's largest business accelerator competition focused on unmanned systems. The year-long, in-residence accelerator program is operated out of CenterState CEO's Tech Garden in downtown Syracuse and will invest $3 million in five finalist companies, including a grand prize of $1 million.
GENIUS NY is funded through the CNY Rising Upstate Revitalization Initiative, the region's award-winning strategic plan to generate robust economic growth and community development. The program also offers company stipends, resources, programming and networking opportunities to assist innovative startups with the tools they need to take advantage of emerging opportunities. GENIUS NY participants are required to operate their business in Central New York for at least one year.
"Business plan competitions like Genius NY are creating opportunities across the state with innovative new start-ups and good-paying jobs," Lieutenant Governor Kathy Hochul said. "Central New York is being recognized worldwide as a leader in the unmanned aerial systems industry because of unprecedented state support and investments. Round 5 of the Genius NY Competition will help to foster more of the groundbreaking ideas that allow this advanced technology to revitalize, transform and build back New York State better and stronger for the future."
Empire State Development Acting Commissioner and President & CEO-designate Eric Gertler said, "GENIUS NY's fifth round will continue to grow the Unmanned Aerial Systems industry in Central New York. This unique business accelerator competition is drawing forward-thinking entrepreneurial ideas and innovators to the region, as well as top companies ready to take advantage of the area's unmatched UAS assets and infrastructure."
Applications are currently being accepted at www.geniusny.com through March 31, 2021, from tech startups focused on unmanned systems, internet of things (IoT), big data and robotics. Subsets may include precision and remote sensing, data collection and analytics, guidance or communication systems, and sensors, among other technological categories.

"We are excited to open applications for the fifth round of the GENIUS NY accelerator program, which has proven to be a critical element of the region's growing UAS and UTM ecosystem," said Jeff Fuchsberg, director of GENIUS NY. "At a time when our community has felt the economic challenges caused by COVID-19 firsthand, it is exciting to see investment in this sector which is a proven jobs creator. The teams we will welcome through this round will be selected in no small part because of their potential to create jobs and support the region's growing tech sector."
Applications will be evaluated by a panel of judges and 15 to 20 semi-finalists will be selected to present demos and pitches this spring. Five companies will advance to participate in the competition, which is structured as a unique programmed incubator and accelerator experience. These five teams will enter the in-residence accelerator at CenterState CEO's Tech Garden in 2021, and will be immersed in the incubator's events, resource pool and mentoring. Applicants should be prepared to relocate to Central New York to participate in the program starting in May. Delays to the start of the program may be created by COVID-19.
Geopipe of New York City was named as the round four winner of the GENIUS NY $1 million grand prize in September of 2020. Other round four winners who are now operating in Central New York include BotsAndUs from the United Kingdom, Droneseed from Seattle, Washington, Skyy Network from Australia and Eget Liber.
President of CenterState CEO Rob Simpson said, "Startups from four prior cohorts have come from around the world to participate in this program and be immersed in Central New York's strong unmanned systems ecosystem. I have no doubt that this round's finalists will find this region to be the best place to grow their company. Our support will enable them to create high-skilled jobs and contribute to the regional economy."
In addition to the GENIUS NY competition, New York State continues to focus on investing in the unmanned aircraft systems industry in Central New York and Mohawk Valley. In 2016, Governor Cuomo announced a $30 million investment to develop the worlds' first 50-mile drone test corridor between Syracuse and Rome. Today, that Unmanned Traffic Management Corridor is a global leader for testing UAS platforms and innovations. In 2020, the governor also unveiled Skydome, a small unmanned aerial system, or SUAS, experimentation and test facility located at Griffiss International Airport in Oneida County.
Senator Rachel May said, "I am very excited to see the new cohort of GENIUS NY competitors at the Syracuse Tech Garden. We have been lucky to have some great innovators and entrepreneurs participate in GENIUS NY and they have added to our workforce and economy in Central New York. By investing in this incubator program, we are illustrating just how great a space Upstate can be to both build and grow any young business."
Assembly member William B. Magnarelli said, "The Genius NY accelerator program is an opportunity for companies to show how their innovative and technologically advanced ideas can transform the unmanned systems industry. Central New York is proud to host the next generation of innovative entrepreneurs in this industry."
Assemblyman Al Stirpe said, "Now more than ever we need to invest in creative business ideas that put people to work, grow our local economy and support the emerging tech industry. CenterState CEO has been an important partner in making this happen across Central New York and I'm excited to see the innovation that this next round of GENIUS NY grants brings."
Onondaga County Executive Ryan McMahon said, "The next round of the exciting GENIUS NY competition will continue to build on the success we've experienced as people come from across the country and across the globe to Central New York. This innovative competition provides businesses with the tools and resources they need to ensure their long-term success and we are looking forward to the groundbreaking work that emerges from this latest round."
City of Syracuse Mayor Ben Walsh said, "The GENIUS NY competition has put Syracuse on the map as a leader in the development of unmanned systems technology start-ups. GENIUS NY attracts entrepreneurs from across the United States and countries around the world.  It's exciting to know that another round of GENIUS NY finalists will be among the next promising companies to locate in Syracuse in 2021. Governor Cuomo's continued investment in GENIUS NY for unmanned systems development in the region is creating high-tech jobs and is core to Syracuse Surge, our strategy for inclusive growth in the New Economy."
Central New York Regional Economic Development Council Co-Chairs Randy Wolken, President & CEO of the Manufacturers Association of Central New York (MACNY), and Deborah Stanley, President of the State University of New York at Oswego said, "We are incredibly excited to see what the next round of innovative entrepreneurs will bring to the table. Through our continued support for the GENIUS NY competition, we are ensuring that New York state remains at the forefront of the growing UAS industry in Central New York, creating new opportunities and jobs for residents in the region for decades to come."
To learn more and apply before March 31, 2021, visit www.geniusny.com.