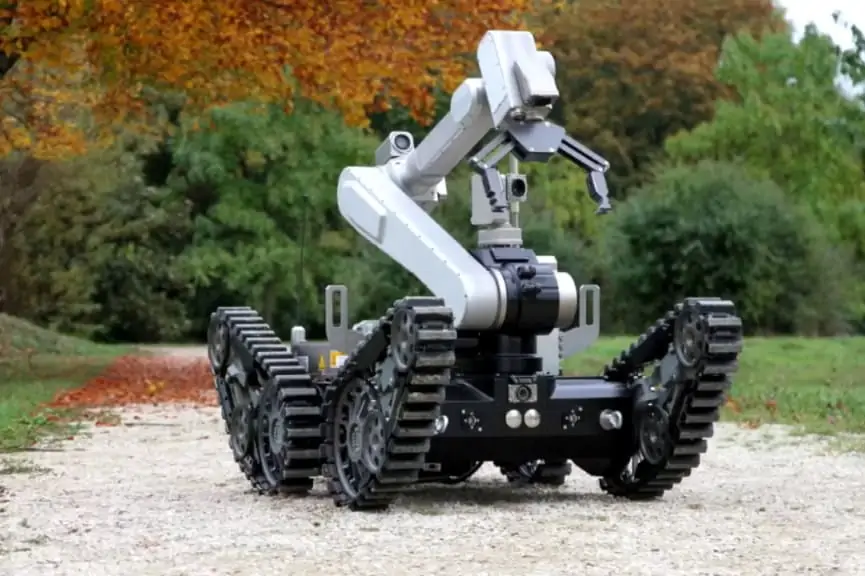 AeroVironment has entered into an agreement to acquire Telerob Gesellschaft für Fernhantierungstechnik mbH, a provider of UGVs (unmanned ground vehicles) and ground robotic solutions to customers around the world.
Telerob's turn-key UGV solutions include the telemax and tEODor EVO families. The rugged robotic systems are designed to safely and effectively perform a variety of dangerous homeland security, emergency response and defense missions, including explosive ordinance disposal (EOD), hazardous materials handling (HAZMAT) and chemical, biological, radiological and nuclear (CBRN) threat assessment. The vehicles feature all-terrain capabilities, specialized precision manipulators, and autonomous functionality.
AeroVironment has also submitted a proposal in partnership with Telerob to the United States Air Force for its multi-year, EOD robotic system program. AeroVironment plans to pursue additional significant domestic UGV opportunities with the United States Navy, Marine Corps, Air National Guard and numerous police forces. Specific international opportunities include UGVs for security at airports in a Middle Eastern allied nation and multiple UAS programs with the German Federal Ministry of Defense, which Telerob's local presence supports.
Wahid Nawabi, AeroVironment president and CEO, commented: "Acquiring Telerob marks a significant step toward achieving AeroVironment's goal of offering an integrated portfolio of intelligent, multi-domain robotic solutions in response to evolving threat environments and customer requirements for more effective, rapid and cost-effective capabilities. Telerob's advanced, proven ground robotic solutions provide a valuable capability to complement our market leading tactical UAS and tactical missile solutions and address a broader set of missions for our customers."
"Telerob's recent track record of strong revenue growth and its culture of innovation and agility align extremely well with AeroVironment. We look forward to welcoming the talented Telerob team to AeroVironment. Together, we will focus on delivering continued growth in our existing businesses, addressing significant new adjacent market opportunities and developing new technologies and combined solutions to drive shareholder value and help our customers proceed with certainty."
Norbert Gebbeken, managing director of Telerob, stated: "AeroVironment is a leader in unmanned systems, with a compelling vision for integrated robotic solutions that Telerob can help to achieve. We are excited to become part of the AeroVironment team and look forward to developing and delivering the advanced, integrated robotic solutions that will expand our reach and help our customers succeed. We are confident that working together, we will accelerate the progress underway and create greater opportunities to expand our geographic and customer footprint."