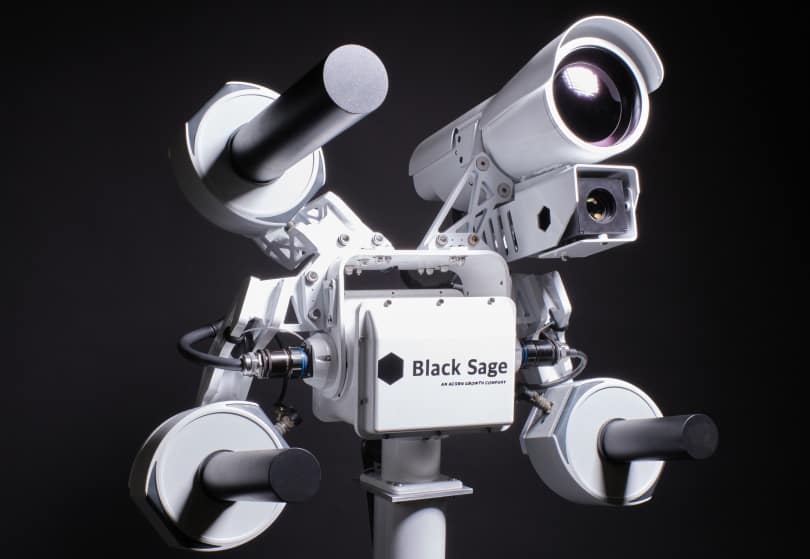 The United States Air Force (USAF) has acquired a CUAS (counter-unmanned aerial systems) radar system from Black Sage that will provide precise targeting data for the Air Force Research Laboratory's (AFRL) Tactical High Power Microwave Operational Responder (THOR). THOR is a counter-swarm electromagnetic weapon developed to defend airbases from threats such as rogue drones, using High Power Microwaves (HPM) to cause a counter electronic effect and instantly defeat targets.
Black Sage has also provided its proprietary DefenseOS software to receive and process the precise targeting data required by the THOR system from the CUAS radars. The data is exported to the US military's Forward Area Air Defense Command and Control (FAAD C2). The integrated CUAS radar system, FAAD C2 and THOR weapon has already been successfully trialled, targeting and defeating multiple drones. DefenseOS is an open architecture command and control software that has to date facilitated the rapid integration of over 30 CUAS sensors and effectors
In the continuous pursuit of high-performing CUAS sensors and effectors, Black Sage has evaluated five different Passive RF components and multiple radar sensors in this calendar year alone.
Trent Morrow, Black Sage's Chief Strategy Officer, commented: "We are pleased to announce that the Air Force purchased a CUAS radar system from Black Sage to integrate with AFRL's THOR weapon. This is another step forward in Black Sage's relationship with the Air Force."