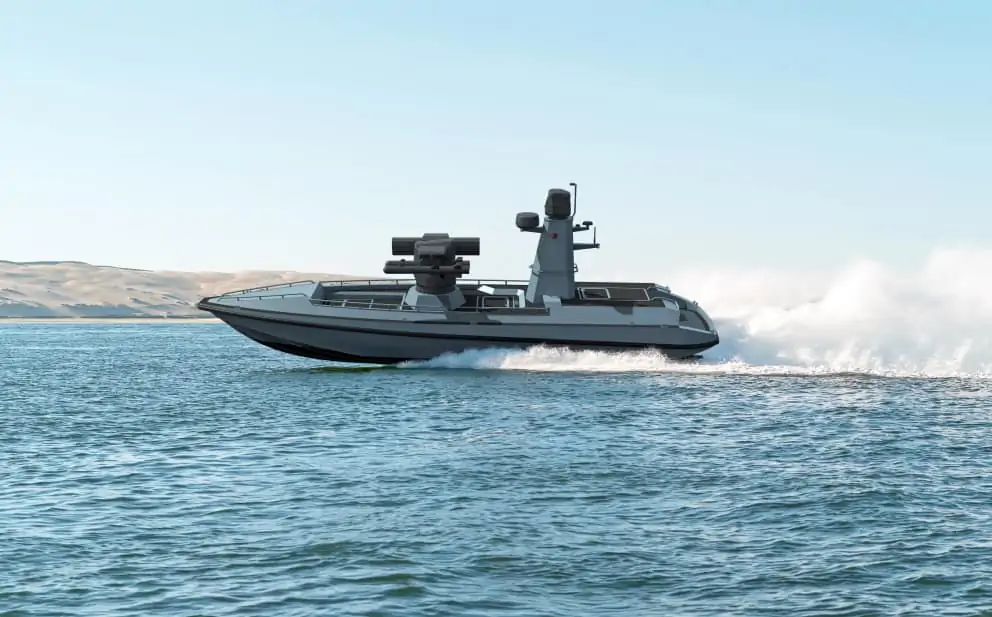 Meteksan Defense, in conjunction with Ares Shipyard in Antalya, Turkey, has launched a new Armed Unmanned Surface Vehicle (USV) program, following a round of intensive R&D activities. A prototype of the new Ulaq line is due to undergo on-water testing in the near future.
Ulaq has been constructed from advanced composites, and features a 400 km range, a top speed of 65 km/h, day/night vision capabilities, and encrypted communications. The USV can be remotely operated from mobile vehicles and headquarters or from sea platforms such as aircraft carriers or frigates, and is intended for missions such as intelligence, surveillance and reconnaissance (ISR), surface warfare, asymmetric warfare, escort missions, and strategic infrastructure protection.
The prototype vessel will be launched in Mediterranean waters once it has been fully equipped. The USV will carry missile systems provided by Roketsan, as well as a variety of communication and intelligence systems such as jamming and electronic warfare systems to met diverse mission requirements. It can be remotely controlled or operate autonomously, and can carry out joint operations with complementary forces such as UAVs (unmanned aerial vehicles) and other unmanned systems.
Following the launch of this prototype, Ares Shipyard and Meteksan Defence plan to develop other USVs for operations such as surveillance and intelligence, mine counter measures, anti-submarine warfare, firefighting, and search and rescue missions.
Utku Alanc, Ares Shipyard CEO, commented: "We are proud to announce the launch of the first Armed Unmanned Surface Vehicle program after years of intensive engineering works and investments following our dream. We hereby present the Armed Unmanned Surface Vehicle (AUSV) as the first platform of the Ulaq line to be launched in December. Ulaq is a messenger, an envoy from ancient Turkish culture who represents the state with his extraordinary skills. Along with intelligence and experience, Ulaq possesses extreme warriorship capabilities. Thereupon, the AUSV we have developed has been named after Ulaq."
Selçuk Alparslan, CEO of Meteksan Defence, said: "We have once again understood the importance of "Blue Homeland" defense, economic exclusive zone protection, and protection of maritime borders of the Turkish Peninsula especially with recently emerging disputes. As Meteksan Defence, we are very proud to utilize our technologic assets of know-how in communication and sensor systems for development of Unmanned Surface Vehicles, and present the very first Armed Unmanned Surface Vehicle of Turkey with ARES Shipyard today. While designing the critical electronic systems of the platform, we have sought the maximum indigenousness and fully considered the operational needs of Turkish Armed Forces."