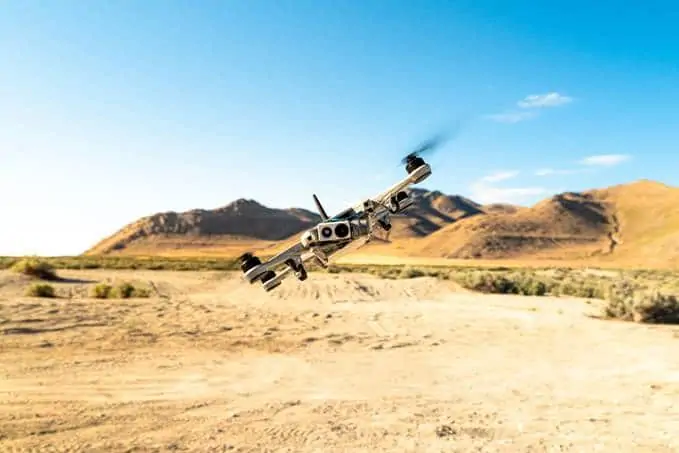 Teal has launched the Golden Eagle UAS (unmanned aerial system), a US-designed and manufactured solution that provides aerial surveillance with scalable, secure, and rugged technology. The commercial drone system has recently been selected as an approved option for Department of Defense and federal government agencies under the Defense Innovation Unit's (DIU) Blue sUAS Project, and will soon be available on the GSA schedule.
In addition to government and defense applications, Golden Eagle is also designed to address a wide variety of applications in the ever-expanding commercial drone market, including agriculture, surveying, construction, energy, and logistics. Teal already has pilot programs running at Fortune 500 companies, and the company has developed the production capabilities to scale and drive mass adoption.
Golden Eagle is based around the Qualcomm Snapdragon 845 mobile computing platform, with real-time edge processing to enable autonomy capabilities, computer vision and AI detection of people and vehicles. State-of-the-art data security features include AES 256 encryption, and the system surpasses Department of Defense requirements, complying with section 848 of the FY20 NDAA and bringing it in line with government concerns with foreign-made drones.
The easily-deployable system features a swappable stabilized payload with a surveillance-grade 4K sensor and a high-sensitivity FLIR thermal sensor as standard, allowing operation even under low-light and no-light conditions. The drone's autonomous flight capabilities are powered by front-facing obstacle avoidance, wide-angle visual inertial odometry, and onboard artificial intelligence. Golden Eagle interfaces seamlessly with Teal's new TAC ground control station for a fully secure end-to-end solution.
Golden Eagle's compact and rugged airframe can reach top speeds in excess of 50 mph, with flight times of up to 50 minutes and starting operational ranges of more than 2 miles. The efficient, high-voltage propulsion system provides excellent flight performance and endurance, and the low acoustic signature that renders the aircraft inaudible at minimal ranges makes the platform ideal for ISR (intelligence, surveillance and reconnaissance) missions. The UAS can operate under wind resistance up 30 mph, with a temperature range of -32° to 110° Fahrenheit.
George Matus, founder and CEO of Teal, commented: "Golden Eagle is the system we've always wanted to build. It's the culmination of five years of work to bring to market a combined hardware and software platform that maintains the ethos of Teal One, but with new industrial-grade technology ready for the most demanding aerial operations. From the beginning, we've worked to build unmanned systems to be more than just flying cameras. Golden Eagle fulfills that vision and more, equipping businesses and government agencies alike with a scalable, secure, and rugged system that keeps them informed and protected in the field."