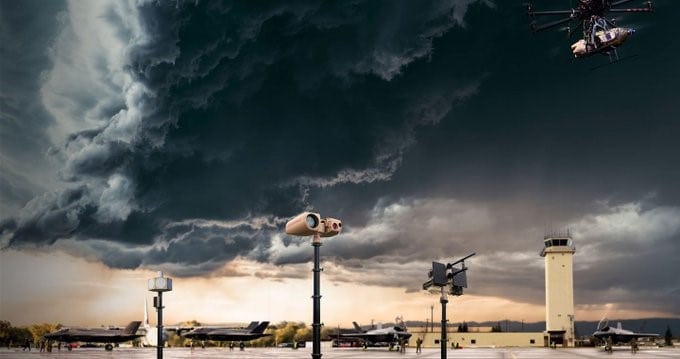 Leonardo has delivered the first of four complete counter-drone systems to the UK Royal Air Force (RAF), to support research and development for the ongoing ORCUS Counter-Unmanned Aerial System (C-UAS) program. ORCUS is a key part of the RAF's testing and evaluation campaign that aims to improve understanding of how C-UAS technology can be deployed to battle the threat posed by hostile drones.
The study program, managed by Defence Equipment & Support Future Capability Group, is considered by the UK Ministry of Defence to be extremely important for national security. The RAF will maintain ORCUS as a national standby capability that can be rapidly deployed anywhere in the country to support emergency services during situations involving rogue UAS.
Leonardo's modular C-UAS systems will allow the RAF to evaluate a range of anti-drone capabilities, including advanced radar, electro-optic and radio frequency sensors and an electronic attack countermeasure, with further subsystems to be integrated in the future. RAF Force Protection operators will be examining the most effective ways to detect, track, identify and defeat rogue drones, and the outcome of this research and development program will inform the requirements for a core RAF counter-drone capability that is intended to protect air bases around the UK.
Elements of Leonardo's C-UAS equipment have previously been operated by the RAF Force Protection Force following drone sightings at Gatwick and Heathrow airports, allowing airport operations to resume. The company provides its scalable and modular C-UAS systems to various international military and civil customers, and is currently working with the Italian Army and Air Force.
Find suppliers & manufacturers of Counter Drone Technology >>