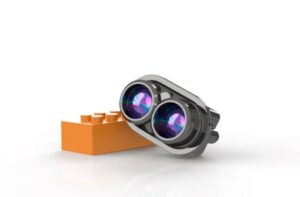 LightWare LiDAR has introduced what the company claims is the world's smallest and lightest microLiDAR system, the SF000, which weighs just 8.8 grams and measures less than an inch long. The SF000 uses time-of-flight technology to make rapid, precise measurements of speed and distance, achieving up to 388 readings per second.
The SF000 is ideal for UAVs (unmanned aerial vehicles) and UGVs (unmanned ground vehicles), with a low SWaP (size, weight and power) footprint that means longer endurance. Well-designed aerodynamics allow it to be easily integrated onto the struts of a drone with minimal issues. The easy-to-use, highly configurable system provides multiple hardware interfaces that allow it to connect to a variety of different controller types. Potential applications for the SF000 include landing assistance, height above ground level and altitude measurement, and obstacle detection.
The accuracy of the system is not affected by the colour or texture of the surface being measured, or by the laser beam's angle of incidence. It is virtually immune to background light, wind and noise, making it an ideal sensor for detecting unexpected obstacles. The SF000 features an excellent range, with multiple return signals enabling it to see through rain, dusty conditions and even treetops, at distances of up to 50m.
LightWare has recently been named a finalist in the Association for Unmanned Vehicle Systems International (AUVSI) Xcellence Awards, with its LW45 microLiDAR nominated in the Hardware – Component category. The company has also been named in a roundup of 99 startups poised for growth compiled by Woodside Capital Partners, and has welcomed on board a new investment partner in Sanari Capital.
Philip Constantine, Executive Vice President at LightWare, commented: "Ultimately, what makes the SF0000 so powerful is its ability to deliver more readings in a shorter time, with improved measurement resolution. We are extremely proud to launch a model which is entirely unique and cannot be matched by any other microLiDAR available."