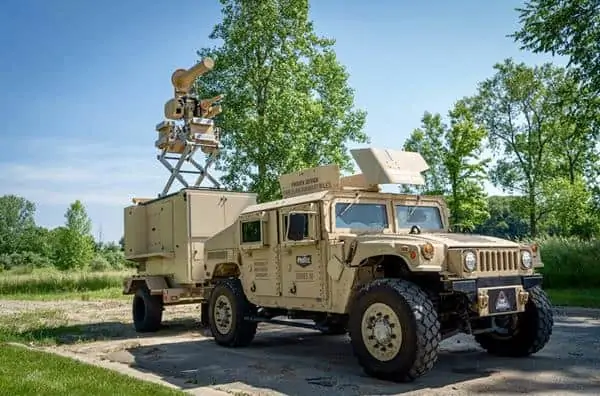 Liteye Systems has launched the new Trailer Anti-UAS Defense System (T-AUDS), a counter-drone solution that provides both fixed-site and on-the-move capabilities. The system can detect and defeat RF-controlled and silent flight drones while mobile, and transition to static mode for fixed location defense in less than two minutes.
The new system is based on Liteye's proven AUDS counter-drone product, which consists of combat-proven Technical Readiness Level (TRL) 9 components currently operational in the U.S. Air Force Containerized-AUDS systems. It has been integrated with Citadel's Titan 3 radio frequency detection technology to provide full detection, identification, and defeat capabilities and minimize vulnerabilities during transitions from mobile to static modes in critical missions. The system provides robust directional jamming as well as rapid radar and camera-based detection, tracking and positive ID.
The combined system provides an on-the-move 360-degree defensive capability, with multiple layers of detection, classification and positive identification for superior situational awareness and protection. With a variety of electronic attack options and advanced machine learning, it provides protection from the most serious of drone threats.
Ryan Hurt, Vice President of Business Development at Liteye, commented: "We are pleased to be working with Citadel and believe the combination of sensors and effectors, especially when integrated into higher level C2 system like MEDUSA, provide the most comprehensive on-the-move and fixed site protection capability against UAS threats available today. The Liteye AUDS system is Multi-Domain and Multi-Mission. Using this system, operators can detect more than just small UAS, they can positively I.D. air and ground targets, classify and track their RF signature, pass this positively identified target data to other weapon systems, C2 systems, or simply defeat or deny the target with an on-board Electronic Attack capability."
Chris Williams, CEO of Citadel Defense, said: "By combining the technologies of both companies, our customers get access to some of the deepest and strongest capabilities in the industry. We have coalesced our efforts for efficiency and effectiveness to get a superior suite of counter-UAS capabilities downrange."