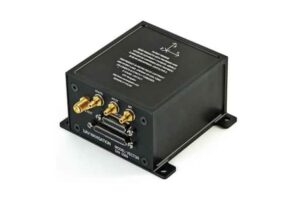 UAV Navigation has tested the robustness of its drone autopilot system against counter-UAS (unmanned aerial system) technologies with an Alpha Unmanned Systems ALPHA 800 unmanned helicopter, which uses the company's flight control solution. To perform the tests, UAV Navigation partnered with a specialist manufacturer of drone jamming guns.
Meaconing, Intrusion, Jamming, and Interference (MIJI), which refers to the interception and rebroadcast of signals that are more powerful than the ones used to navigate the aircraft, is a major issue in the field of UAV security. This type of attack is usually used to spoof the GNSS signals being received by the drone. To minimize the possibility of successful MIJI attacks, UAV manufacturers must consider several factors, including:
What EMI / EMC tests has the system passed?
What mechanisms have been implemented to identify and mitigate these attacks?
To what extent does loss of GNSS affect the performance of the aircraft as a whole?
UAV Navigation has designed a highly robust system with improved security measures in both hardware and software. In order to help mitigate the impact of certain high-power signals, the hardware is certified to MIL-STD-810F and MIL-STD-461F standards. From a software point of view, UAV Navigation's systems can resist interception due to the non-dependence of GNSS for critical system loops, as well as a proprietary ICD (Interface Control Document) that allows the systems to prevent, analyze, and detect any possible interference or system failure. This involves multiple high-quality sensors acting as onboard independent observers as well as advanced estimation logic.
The tests were performed with a variety of different drone gun models and signal strengths. Each time, the autopilot system was able to detect the interference and continue operating without any major issues.