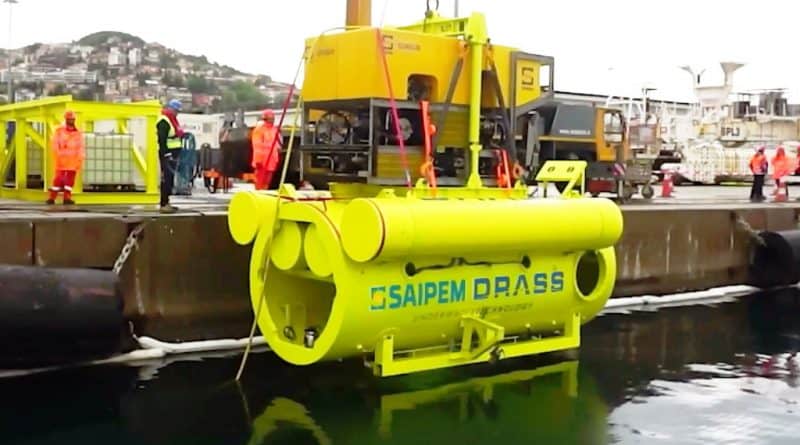 Offshore solutions provider Saipem and undersea technology developer Drass have developed a rescue system for submarines based around a remotely operated vehicle (ROV) with a rescue capsule. The Italian Navy has selected the system for use on board its new SDO-SuRS (Special & Diving Operations – Submarine Rescue Ship) vessel, following a technical evaluation during which a demonstration prototype was successfully tested in the Adriatic Sea.
The ROV provides navigation and control, while the capsule – which is mechanically and electronically linked via an umbilical cable providing power, communication and control – brings submariners back to the surface. The modular system can be broken down into smaller components to make air transport easier.
The ROV, all underwater automation technology and the vehicle integrated into the capsule have been supplied by Saipem. Drass is responsible for the capsule's decompression devices, hyperbaric elements, ventilation systems and medical gas treatment systems.
Francesco Racheli, COO of Saipem Offshore E&C Division, commented: "The collaboration with an Italian entrepreneurial excellence such as Drass for an institution of absolute prestige such as Marina Militare Italiana fits fully into the strategic diversification plan which sees Saipem engaged not only in the energy transition and renewable sources, but also in the development of new strategic segments with high technological and innovation content. Saipem will continue to strengthen this relationship with Marina Militare Italiana by offering its entire portfolio of products for the inspection and surveillance of our seas."
Sergio Cappelletti, Managing Director of Drass, said: "The historic collaboration of Drass with Marina Militare Italiana is enriched with an exciting new chapter in which the synergy with Saipem brings a cutting-edge technological background deriving from industrial underwater robotics. The consolidation of dual technology in the field of Defense further enhances the extensive specialist heritage that characterizes Drass in the subsea sector. The step we take today is preparatory to larger projects, intended to create a national excellence in the field of underwater technology."