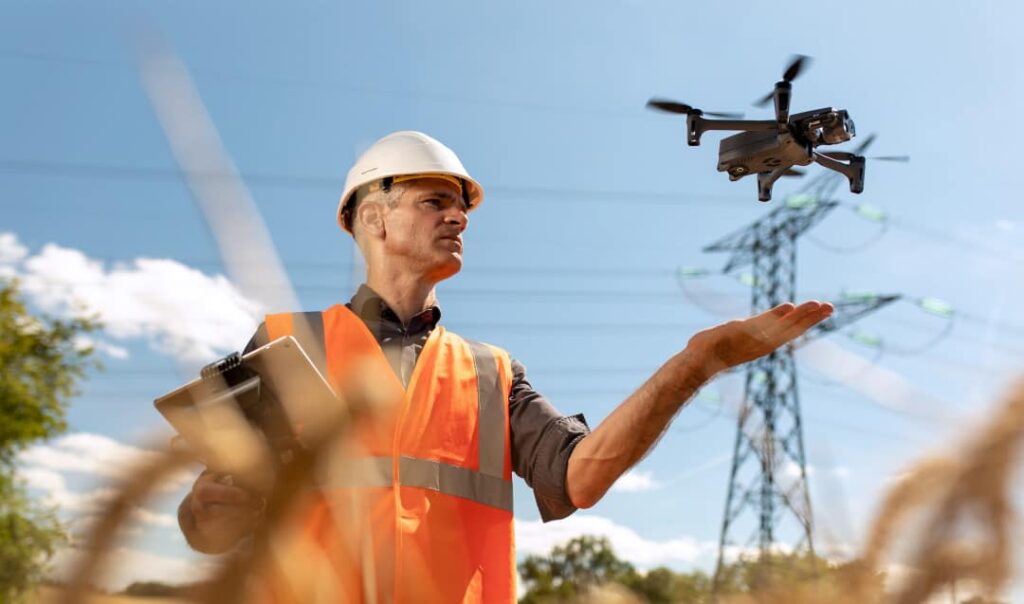 Parrot has unveiled the ANAFI USA, a new multirotor drone designed for first responders, firefighters, search-and-rescue teams, security agencies, surveying and inspection professionals. Featuring enterprise-class data security, the U.S.-made drone provides the same high-end security, durability and imaging capabilities as Parrot's Short-Range Reconnaissance (SRR) drone designed for the U.S. Army. The system is also compliant with the European Union's General Data Protection Regulation (GDPR).
The system's advanced optics were built to meet the requirements of firefighters, who need to view hot spots as well as obtaining an overall assessment the entire visual scene. The drone's 3-axis stabilised gimballed payload features two 21-megapixel cameras with 32x zoom, as well as a FLIR Boson thermal camera. Visual details alone can be clearly captured from up to 5 km (3.1 mi) away, while blended visual and thermal imagery can be viewed from up to 2 km (1.2 mi) away.
The lightweight 500g (1.1 lb) ANAFI USA can be deployed in less than 55 seconds, including unfolding, powering up, radio link establishment and takeoff. The system works indoors without GPS, allowing operators to take off inside a house, pilot the drone through a window to fly outside, and then come back. It requires no special take-off equipment or conditions and can be launched from the palm of the hand, and features a flight endurance of up to 32 minutes.
With no built-in limitations for no-fly zones, ANAFI USA gives responsible operators the freedom to deploy at a moment's notice in a variety of mission conditions and locations. The IP53-rated drone features weather- and dust-proofing and can be flown in rainy conditions, with stabilized imaging ensuring high-quality footage even in 15 m/s wind speeds.
ANAFI USA's advanced flight features are powered by Parrot's FreeFlight 6 piloting software, providing multiple easy-to-use flight options. Routes can be set by coordinates in assisted framing or executed autonomously. The system also allows users to program a specified "home" location for easy mission finalization. This return-to-home feature automatically occurs when the drone disconnects or is running low on battery, providing a degree of safety and investment protection.
The ANAFI USA platform provides a variety of enhanced security and privacy features, including:
SD card encryption for complete protection of photos and videos, utilising a robust AES-XTS algorithm with a 512-bit key length
Secure WPA2 Wi-Fi connection to authenticate and encrypt the link between the remote controller and drone
Signed firmware to prevent any malicious modification of the drone software
Trusted standards and open protocols (such as Wi-Fi, WPA2, RTP/RTSP, H.264, and GUTMA) to ensure the utmost interoperability and security for all recorded data
Opt-in data sharing via the FreeFlight 6 app, with flight data and logs stored on secure servers in Europe
ANAFI USA is compatible with Pix4Dreact mapping software, allowing first responders to quickly transform images into precise 2D maps on a laptop. Through its open-source SDK and use of industry-standard protocols, the UAS also supports a growing ecosystem of professional applications and services, including:
Survae (smart searching and visualization platform connecting video, images, and sensor data to interactive maps and timelines)
DroneLogbook (compliance and fleet management)
Kittyhawk (compliance and security for enterprise UAS fleet and airspace management)
DroneSense (comprehensive drone management platform enabling public safety organizations to build, manage, and scale their unmanned aircraft programs)
Planck AeroSystems (autonomous landing on a moving vehicle)
Skyward (aviation management platform, including airspace, LAANC access, as well as training, hardware, and connectivity for enterprise drone fleet deployments)