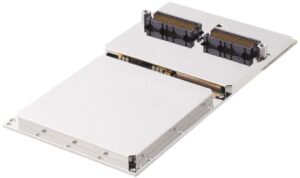 EIZO Rugged Solutions has released the Condor NVP2102AxX, a new 6-channel rugged XMC graphics card that provides low-latency simultaneous capture of both analog and digital video and audio. The card is an ideal solution for unmanned systems surveillance applications requiring the combination of legacy video with newer digital video formats.
Based around a chip-down NVIDIA Quadro P2000 (GP107) design with 768 CUDA cores and 4GB of GDDR5 memory, the Condor NVP2102AxX supports four 3G-SDI inputs, two CVBS (NTSC/PAL), and two audio inputs, as well as two 3G-SDI and two DVI or DisplayPort video outputs.
The rugged graphics card is an all-in-one solution that can capture, process, encode, decode, display, and stream video data. It also supports CUDA and OpenCL based GPGPU computing, AI processing (artificial intelligence), deep learning and H.265/H.264 encoding/decoding. At maximum power consumption, the card's Quadro P2000 GPU provides 2.3 TFLOPs of single-precision floating point compute performance (FP32).
The processor optimizes NVIDIA's GPUDirect RDMA (remote direct memory access) feature to achieve high-speed data transfer and exceptionally low latency levels, bypassing system memory and enabling video data to be sent over PCIe directly to GPU memory for analysis and processing. Applications benefitting from processing with the card's built-in GPGPU (CUDA/OpenCL) technology include image analysis, image enhancement, 360-degree video stitching, sensor fusion, and target detection.
The Condor NVP2102AxX is designed for operation in demanding environments and has been tested to withstand high temperatures, as well as shock and vibration to MIL-STD-810G. It is available in conduction-cooled or air-cooled variants with rear XMC I/O on Pn6. The rear XMC pin-out is compatible with VPX systems that follow VITA 46.9 x12d+x8d+24s. 3U VPX and PCIe form factors are supported by carrier boards.
Customization options for the Condor NVP2102AxX include support for other video input and output formats such as additional DVI, DisplayPort, STANAG 3350, or ARINC 818. Special analog Sync-on-Green video formats such as RS-343 are also available. The XMC IO can be re-routed as PMC IO or to the front panel.
Selwyn L. Henriques, president and CEO of EIZO Rugged Solutions, commented: "This new product offers a bridge for customers who want to combine legacy video with the newer, digital video formats. For example, one of our military airborne customers was looking to upgrade a gimbal/sensor pod running analog video to a digital solution. This dual analog/video graphics card provided that transition in a single card solution while dramatically lowering CPU overhead, reducing latency, and delivering improvements in data transfer times."