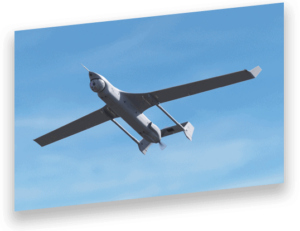 VersaLogic's embedded computers have been integrated into the design of a radio-controlled, electrically-powered, dual-ducted Vertical Take-Off and Landing (VTOL) unmanned aerial vehicle (UAV). THe embedded systems have been used to provide on-board control and monitoring functions, including control and maintenance of the delicate thrust and angle balance of the powerful dual-duct system used to propel the aircraft.
The high-performance processing power of the VersaLogic SBC (single-board computer) allows the UAV's fans to counter-rotate, eliminating the torque that is normally associated with a single rotor. This makes the vehicle easier to fly than most electrically-powered helicopters while carrying significantly more payload.
The versatile UAV weighs less than six pounds and can be carried in a backpack or small case. A fully-functional integrated GPS system provides autonomous flight and position control. The low-footprint drone can fly into tight spaces, hover, capture video images, and send real-time data back to the user. Optional night-vision cameras allow the unmanned aircraft to be operated inside caves, dark buildings, and tunnels.
VersaLogic's reliable embedded systems for unmanned aerial vehicles and robotics are designed in the US, fully tested for shock and vibration, and AS9100 and ISO9001 certified. The company provides standard off-the shelf, modified COTS, and bespoke designed solutions, and provides extensive lifecycle support for its products.
A wide variety of mission-critical, high-profile military and aerospace equipment has been designed with a VersaLogic embedded computer inside.
Find suppliers of Embedded Computing boards for unmanned applications >>