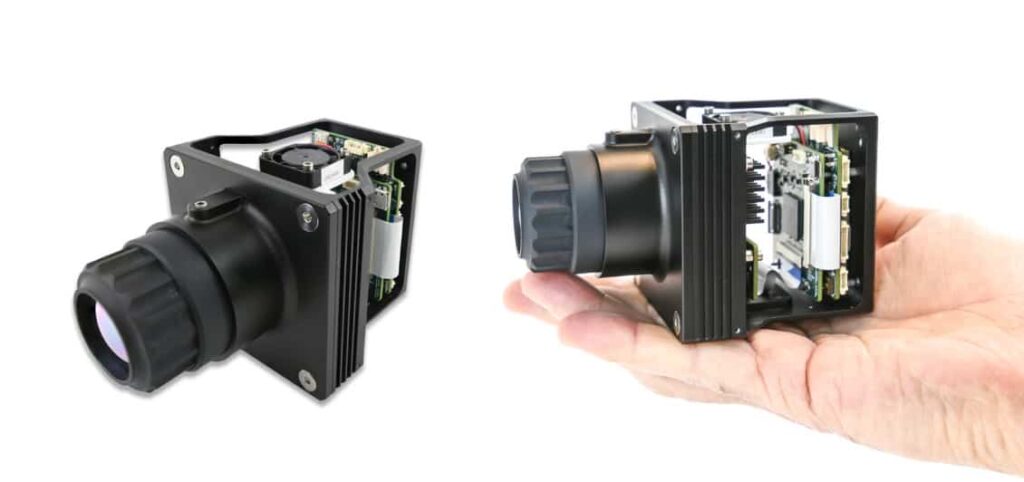 Sierra-Olympic Technologies has released its new Vayu Long Wave Infrared (LWIR) HD thermal camera, featuring the world's first Full HD 1920 x 1200 x 12μm uncooled VOX microbolometer array. Weighing in at 450 grams and compact enough to fit in the palm of a hand, the SWaP (size, weight and power)-optimised thermal imaging platform is ideal for UAV (unmanned aerial vehicle) airborne photogrammetry and persistent surveillance, as well as for unmanned ground and surface vehicles (UGVs/USVs).
According to Sierra-Olympic, the Vayu HD is currently the highest resolution uncooled LWIR camera on the market, exceeding the current 640 x 480 resolution benchmark with 7.5x the pixel count and providing a full 60 frames per second. With its reduced size and weight and superior image quality, and the reliability of an uncooled LWIR platform, the new camera represents a major evolution in low-SWaP thermal imaging technology.
Find out more about the Vayu HD LWIR thermal camera here
With a lightweight chassis and convenient interfaces, the Vayu HD is ideal for OEMs and systems integrators as well as end-users. Sierra-Olympic has custom designed 25mm and 50mm lens configurations for the new thermal imaging platform. For universal compatibility, the camera is equipped with USB3.0 raw video output, in addition to standard HDMI (1080p) and IP-video outputs (H.264/265). An onboard processor provides advanced imaging functions, and the ability to implement optional features such as object tracking and detection with telemetry, NMEA metadata frame tagging, and more.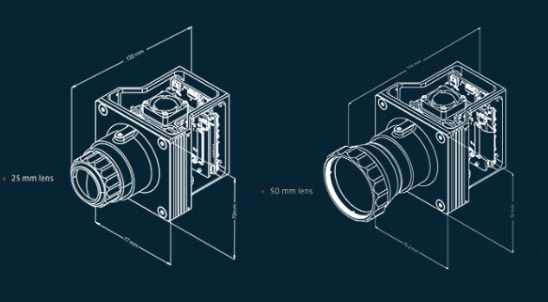 Key specifications of the Vayu HD LWIR thermal imaging camera include:
Size (25 mm): 122 mm x 77 mm x 72 mm
Size (50 mm): 139 mm x 77 mm x 72 mm
Weight (25 mm): 450g (1 lbs)
Weight (50 mm): 520g (1.1 lbs)
Detector:
Detector Type: Uncooled VOx Microbolometer
Bit Depth: 16-bit
Array Format: 1920 x 1200
Pixel Pitch: 12μm
Spectral Response: LWIR 8-14μm
Frame Rate: 60Hz
1-point NUC: Scene or mechanical shutter
Lens:
F#: 1.2
Focus: Manual
FOV (25mm): 49.5° x 32.1°
FOV (50mm): 25.9° x 16.4°
Environmental: Athermalized, High-performance AR Coating
System:
Video formats: HDMI (1080p), RTSP, USB3-UVC (raw)
RTP Stream: H.264/H.265 MPEG
Enhancements: Linear Histogram AGC, CLAHE, LAP, Sharpen, De-noise
Camera Control: Ethernet, USB3.0, RS-422
Other interfaces: Serial in/out for telemetry, GPIO
Chris Johnston, Sierra-Olympic President, commented: "Sierra-Olympic has more than three years of experience with this unique, large format FPA and is excited about its re-introduction now that the FPA supply is ready for production. We have designed our new camera for minimum size and weight and have provided a more flexible camera core for our integration customers. Also of significance, we can declare the product as dual-use, thus allowing more seamless sales to our international customers."
Tim Decker, Sierra-Olympic Product Engineering Manager, said: "This sort of technology is demanded especially by users who simultaneously need wide field of view and high spatial pixel density. Being uncooled, it does not require the maintenance and overhaul needed on cooled/MWIR cameras. This is a significant reduction to long term cost of ownership and a significant strength in reliability."
Watch a video demonstration of the Vayu HD below, which features a test flight over Los Angeles and demonstrates the suitability of the platform for low-SWaP aerial applications requiring a wide field of view and high pixel density.