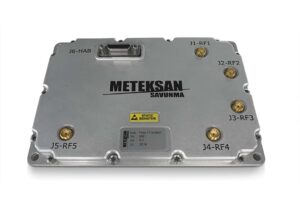 Meteksan Defence has launched its new Anti-Jamming GNSS System, designed for military and defense platforms such as UAVs (unmanned aerial vehicles) and UGVs (unmanned ground vehicles). Supporting multiple frequencies and multiple constellations (GPS, GLONASS, GALILEO, BeiDou), the system can determine the direction of jamming signals and suppress them using spatial filtering, reconstructing the original signal for delivery to standard GNSS receivers.
GNSS signals are weakened over the distance between satellite and receiver due to atmospheric effects, allowing them to be easily suppressed by jammers that cause receivers to lose signal tracking. This can cause unmanned systems and robotics to malfunction or even crash.
The new system uses a four-element Controlled Reception Pattern Array (CRPA) antenna and provides resistance against one or multiple jamming signals. It can operate at high speeds and under highly dynamic conditions, and is lightweight and compact, making it ideal for SWaP (size, weight and power)-limited unmanned systems. It is also MIL-STD-810G and MIL-STD-461F compliant.
Meteksan Defence Anti-Jam GNSS also includes a built-in GNSS receiver capable of decoding GPS satellite signals for calculating position, velocity and time information. This way, without needing an external GNSS receiver, Meteksan Defence Anti-Jam GNSS can both output filtered GNSS RF signal and calculate position/velocity/time information from the filtered signal. Thanks to the high-tech antenna design infrastructure owned by Meteksan Defence, it also develops their own CRPA antenna designs and offers a variety of antenna specific to the platforms.
Selçuk Alparslan, President of Meteksan Defence, commented: "The high-tech electronic systems we have developed for military platforms such as helicopters, unmanned aerial vehicles and missile systems have resulted in a significant accumulation in terms of human resources, technology, infrastructure and business ecosystem at Meteksan Defence. We can transfer this accumulation to other areas that we consider necessary, without waiting for it to be a project, using our own resources. The Anti-Jamming GNSS is a product of this approach. We are confident that this new system will make an important contribution to the reliability and security of the platforms of our Turkish Armed Forces."